After clarifying on May 12 that the World Health Organisation (WHO) has not classified B.1.617 as an 'Indian Variant' the government wants all such references removed from social media platforms.
In an advisory issued to social media platforms dated May 21, the Ministry of Electronics and Information Technology (MeitY) asked them to remove all content "…that names, refers to, or implies 'Indian variant' of corona virus from your platform immediately."
The blanket advisory which addresses all social media platforms irrespective of the number of users, does not have an underlying legal basis, believe experts.
"The letter asking for such a large-scale removal of content based on a phrase used has got no underlying legal basis or statutory authority and therefore it does not have a corresponding provision of law under which it could have been issued," said Prasanth Sugathan, legal director at SFLC.in, a legal services organisation which works for digital freedom.
He further added, "Since MeitY does not have an authority to issue such a direction, it cannot legally take any steps for non-compliance with its request as mentioned in the letter." He further added that since the advisory was issued to social media platforms, it also applies to social media posts shared by online publishers or online news entities.
Most of the social media platforms continued to display content which calls the particular strain of virus 'Indian Variant.'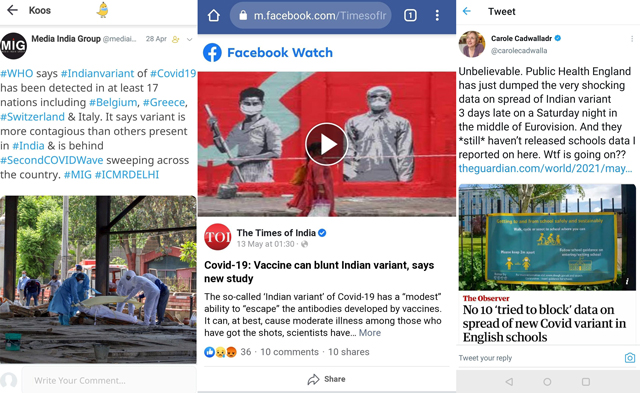 L to R: Posts on social media platforms Koo, Facebook and Twitter mentioning Indian Variant
Social media platforms including Twitter, Facebook, Chingari and WhatsApp either declined to comment or did not respond to queries from TechCircle at the time of publishing the article.
In a statement, Aprameya Radhakrishna, CEO of microblogging platform Koo, said, "Koo is a resident Indian company and committed to complying with applicable laws. Koo will cooperate with all lawful requests made by Indian legal authorities in discharge of their duties."
While all social media platforms come under the purview of Intermediary Guidelines issued by MeitY in February, the current advisory cannot stipulate a time frame to take down such content said Prasanth Sugathan of SFLC.in
"Since the advisory in the letter does not emanate from a provision of law, the question in respect of a minimum duration for taking down the content does not arise. The letter issued by MeitY does not mention a deadline for removal of content," he told TechCircle.
While WHO had previously advised using the definition and nomenclature of SARS-CoV-2 virus based on genetic sequence and avoid geographic or political references, media reports and individuals on social media have in the past referred to new strains based on geography, including Brazil Variant, UK Variant and others.
---