Months after technology companies across the spectrum, from startups to information technology (IT) services majors, signaled their intent to inoculate employees against Covid-19, the planned vaccination drives have finally started to gain momentum.
On Monday, Bengaluru based IT services company Mindtree said it had kickstarted a free vaccination drive for its 23,814 India employees and their immediate family members. Over 10,000 employees and family members have so far registered for the inoculation and the figure is expected to grow as the drive is expanded to other locations, chief people officer Paneesh Rao said.
The company has collaborated with hospitals across its locations such as Chennai, Pune, Hyderabad, Bhubaneswar and Kolkata to accelerate the vaccination drive. Employees who are not able to vaccinate at a Mindtree arranged camp, will be reimbursed the cost of vaccine for self and dependent family members.
Last Thursday, the Shiv Nadar promoted HCL Group said it had planned capacities to vaccinate all its India-based employees and their families by the end of June. The HCL Group includes Noida based IT services company HCL Technologies, which employs 168,977 people, the bulk of whom are in India. The groups said it would invest over Rs 100 crore towards free vaccination services for its employees, their families and third-party vendor personnel.
"HCL (Group) has already vaccinated more than 25% of its eligible workforce with at least one dose... HCL plans to have administered approximately 700,000 doses (including two doses per person) by the end of the drive," the group said in a statement. It expects to procure the vaccines directly from manufacturers and through partnerships with top-tier hospitals, the discussions for which are currently underway, it said.
A day earlier, ride hailing platform Ola said over 50% of its employees and dependents had been administered the first vaccination doses. The company's total headcount stands at 7,000 employees, as per its website, a majority of which are based at the company headquarters. The Bengaluru based company has partnered with a number of hospitals to set up camps at its campus in the city, where the drive is currently in session. It aims to roll out the drive to other cities soon, the company said in a statement.
In March this year, the SoftBank backed company said it would provide free vaccination to all its employees, their dependents and its contractors, consultants and advisors. While its driver partners, 1.5 million of them, are not covered yet, the company intends to gradually cover them under its vaccination programme, the spokesperson told TechCircle.
On Friday last week, French IT services and consulting firm Capgemini said it had partnered with health and security services firm International SOS to enable on-premise vaccinations for its 125,000 India employees and their dependents. Additionally, it has tied up with several hospital chains including Apollo, MGM and Rainbow to vaccinate employees across Mumbai, Pune, Bengaluru, Chennai, Kolkata and Delhi NCR.
This week, bike taxi platform Rapido launched the first vaccination drive for its driver partners, dubbed Captains, in Chennai. The Bengaluru based company employs 90,000 registered Captains in Chennai, and over 1 million across the country for its fleet of two-wheelers across the country. For the Chennai drive it collaborated with the Chennai City Corporation for the free vaccination drive, in which about 1,000 Captains have so far registered and are vaccinated so far.
"The Captains were administered the first dose of Covishield. All vaccinated drivers will be administered the second dose as per the defined period of 80 days between two doses," the company said in a statement.
IPO bound foodtech unicorn Zomato kicked off an extensive vaccination drive for its delivery partners last month. On May 21, Zomato founder and CEO Deepinder Goyal tweeted, "Last week we started vaccinating our delivery partners in NCR... we are facilitating a free and safe vaccination drive for more than 150,000 of our frontline staff and employees..."
Last week, we started vaccinating our delivery partners in NCR. In one of the largest efforts of its kind, we are facilitating a free and safe vaccination drive for more than 150,000 of our frontline staff and employees. Thousands of our delivery partners are already vaccinated. pic.twitter.com/HoK1kX7TT3

— Deepinder Goyal (@deepigoyal) May 21, 2021
The accelerated vaccination drives come about a month after the central government allowed the private sector, including hospitals, to directly procure or import vaccines after necessary approvals from the health ministry. However, while the government has in-principle cleared the path, the actual procurement of vaccines has been less simple.
"On ground the reality is that while the government has announced vaccine availability, till date there are no guidelines surrounding the stock of the vaccines," Kiran Kalakuntla, founder and CEO of e-healthcare startup ekincare said. The Hyderabad based startup recently partnered with online pharmacy platform 1mg to drive vaccination for the employees of about 500 client organizations. These include hotels aggregator OYO, food delivery platform Swiggy and ecommerce platform Flipkart. The drive aims to cumulatively vaccinate about two million employees at these companies.
Most of the companies that TechCircle reached out to for this story were reluctant to divulge details on vaccine procurement. With most government vaccination programmes having fallen short in terms of inoculating citizens at the pace required, the private sector has been compelled to step in to accelerate the process in the interest of employee welfare and business continuity.
For the Rs 194 billion (as per Nasscom in February 2021) IT services sector, inoculating their massive workforces is imperative. The sector is riding an unprecedented growth wave on the back of increased demand for digital services from enterprise clients in a pandemic-hit world. Most have already issued optimistic earnings forecasts for the current financial year. To meet those forecasts, the majority of an estimated 4.47 million (as per Nasscom in February 2021) strong workforce needs to be vaccinated before the current quarter runs out.
While homegrown information technology (IT) services companies such as Infosys and Tata Consultancy Services (TCS) have set up vaccination centres for employees and family members at their campuses across the country, global IT consulting firm Accenture and ecommerce major Amazon have chosen to reimburse employee vaccination costs for now.
In its last shared update mid-May, Infosys told TechCircle that it had tied up with over 130 hospitals for employee and family vaccinations. It however, is still in talks with vaccine suppliers to accelerate its vaccination programme. The Bengaluru based company had 259,619 employees on its rolls as on March 31, the bulk of who are located in India.
Noida based Coforge (formerly NIIT), with over 10,000 staffers, said it is consistently encouraging employees to get vaccinated at locations near residences in case of their inability to come into office. Around the first weeks of May, almost two-thirds of its 45+ age group workforce across the country had been vaccinated at least with one dosage, a company spokesperson said.
"Unfortunately, the limited supply of vaccines has hampered our and our partner efforts to cover a larger number. Considering our pan-India tie ups we expect to cover all of our employees in the coming weeks subject to availability of vaccines," she added.
Wipro, with about 197,712 employees, said it is currently exploring all possible means to facilitate vaccinations in the company. It has tied up with hospitals across 140 locations to help with the vaccinations. April end, it held its first vaccination camp for employees above the age of 45 at its headquarters in Bengaluru, and subsequently in Chennai. In its last shared update, the company ordered 100,000 doses of Covishield, Covaxin and Sputnik V and expects to receive the first tranche of vaccines exclusively for its employees and dependents in early June.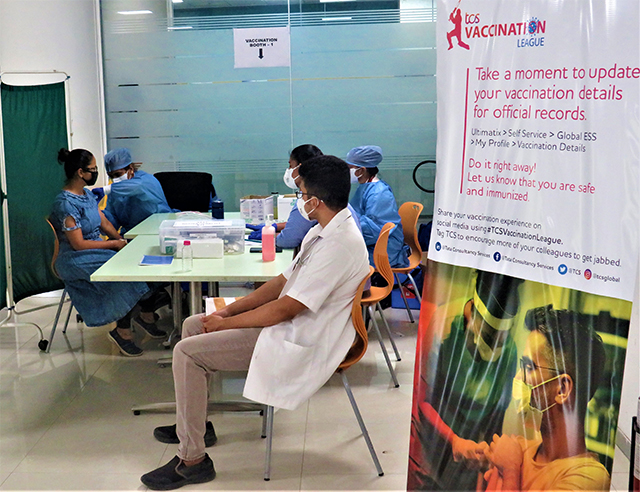 EMPLOYEE VACCINATION DRIVE AT TCS | IMAGE CREDIT: TCS
India's largest IT services exporter TCS too has tied up with health care providers and initiated registrations, and has vaccinated an undisclosed number of its employees. It continues to try to restock its vaccine supplies for its employees as well as those of other companies within the Tata group, a spokesperson told TechCircle. It has set up 118 vaccination centres so far, which includes 41 across its own offices in 21 cities. The Mumbai based company's global headcount stood at 488,649 at the close of financial year ended March 2021.
Mid May, IBM India human resources chief Chaitanya Sreenivas told TechCircle that the company would open vaccination camps soon in line with government regulations in all major cities with employee and family populations, and an option to get company sponsored vaccines either at hospitals or the camps. The Armonk based technology giant employs well over 100,000 people in India.
Another mid-May update had Amazon India say that it was working hard to access vaccine supplies for all of its frontline teams at the earliest appropriate time. "We recognize that not every such person will have access to on-site vaccination events right away and hence we are offering up to Rs 750 to frontline employees who can get vaccinated off-site," it said.
---