CDN services provider Fastly said the issue behind a widespread global website outage has been identified and fixed. However, customers might experience increased origin load as global services return.
Multiple global websites, including Reddit, Twitch, Quora and Paypal, and several of their Indian pages faced outage issues on Tuesday due to an error at Fastly.
We identified a service configuration that triggered disruptions across our POPs globally and have disabled that configuration. Our global network is coming back online. Continued status is available at https://t.co/RIQWX0LWwl

— Fastly (@fastly) June 8, 2021
The edge cloud platform provider's status page at status.fastly.com showed multiple updates citing that the company is "continuing to investigate the issue".
The message on the website reads "Error 503 service unavailable". Other information includes a mention of "Guru Mediation" and a "varnish cache server". According to the status page, the first message from the company was at 3:28 pm IST, when it said "We're currently investigating potential impact to performance with our CDN services."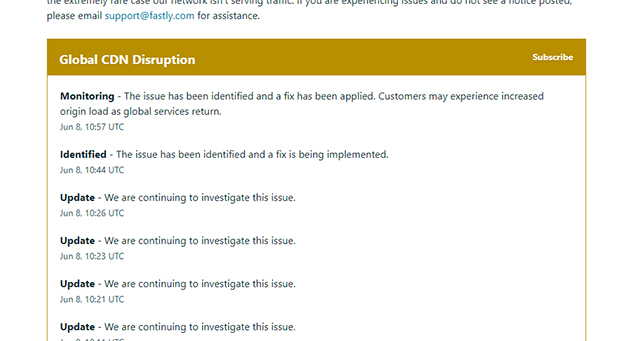 The company's status of its services on the multiple locations showed that 81 of its global PoPs (point of presence) had been tagged with "degraded performance", including three of its PoPs in Chennai, Mumbai and New Delhi.
What is Guru Mediation?
Guru Mediation is a term that is currently used to refer to error messages in web application accelerator Varnish Cache, which is also a HTTP reverse proxy. Most of the websites clearly mention the error as attributed to the Varnish Cache server.
Online job portal Naukri, also sent a letter to the Bombay Stock Exchange citing that its services were down intermittently on June 7 between 09:50 till about 09:00 pm in three of its subsidiary websites. The issues were later resolved. Naukri did not provide any explanation for the outage and it is not clear whether the CDN outage of today is related to the incident at Naukri yesterday.
---