Three startups and their bid to build a Carta for India, Asia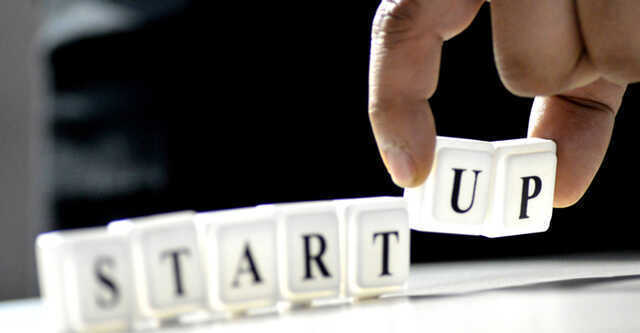 About a year before the Covid-19 pandemic would disrupt the world, six entrepreneurs, on three different paths, decided that the time was ripe to solve a pertinent problem in India's startup and venture capital market – find an easy, transparent way to manage cap tables and ESOPs. The result was the birth of three entrepreneurial ventures – Toppeq in Mumbai, Qapita in Singapore, and MyStartupEquity in Bengaluru.
The founders of these companies didn't just chance upon the idea. In March 2019, Morgan Stanley acquired Calgary based Solium Capital and its cloud-based equity plan management solution for startups, private and public companies Shareworks. The same month Wall Street rival Goldman Sachs was part of a $300 million investment round in San Francisco based Carta, which valued the equity cap table management startup at $1.7 billion.
For the founders of Toppeq, Qapita and MyStartupEquity, it was a no brainer. Like most successful business models in the US, this one too could be replicated for India and Asia, with modifications, of course, to allow for the local environment. The addressable market was already quite significant – India alone has an estimated 50,000 startups – and growing.

Qapita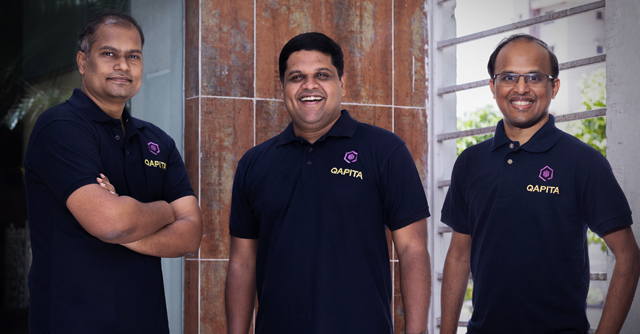 Qapita co founders (L-to-R) Vamsee Mohan, Ravi Ravulaparthi, Lakshman Gupta | Credit: Qapita

Qapita was born when a former investment banker Ravi Ravulaparthi, former corporate investor Lakshman Gupta, and techie Vamsee Mohan walked into a metaphorical bar.
While Ravulaparthi and Gupta worked together in the Tata Group once upon a time, Ravulaparthi and Mohan were batchmates at IIT Madras over two decades ago. The three set up business in September 2019. Multiple fundraises and hiring picked up only during the Covid-19 pandemic in 2020.
The Singapore registered company has now grown to 32 employees spread across about 13 cities. Its product development occurs entirely in Hyderabad under the aegis of Mohan's expertise with the technology backend.

"This (pandemic) also helped us actually get very good talent because sometimes people become restricted to locations. Once we remove that restriction, we say that we can work from anywhere... as long as talent is met," Gupta told TechCircle.
Talking about the product, Ravulaparthi chimed in, "This has already been solved by systems and there have been companies which are in existence... And so, we are not reinventing the wheel. We are innovating in reinventing a wheel, if at all, for this part of the world."
Qapita is currently focused on India, Singapore, and Indonesia.

"When I started my banking career, the average time to IPO was six years globally. Today, the global average to IPO is about 12 years. In our part of the world, Southeast Asia, it is 14-15-16 years... And you manage ownership on a spreadsheet, you do RoC filings, you do ACRA filings in Singapore. But these do not capture a true picture of ownership," Ravulaparthi said.
A true picture of ownership should contain instruments such as convertible notes, warrants, options, and employee stock options which are being captured over multiple spreadsheet versions, he said. The second part of the problem statement he said is that typical vesting schedules for ESOPs are four years. But now with companies remaining private for 12-14 years, easy mechanisms to provide liquidity must exist.

"Third part of the problem is that when innovation happens in the financial sector, its first adopted by startups before large established businesses. But in in our share world, it's the opposite. A large company like Infosys, ICICI Bank, Kotak will have digital share certificates..." he said wondering why startups in 2021 continue to feel the need to use paper share certificates.
Qapita aims to ultimately digitize the entire equity stack in a private company. "With the first version of the product that's ready, we'll solve the first two. And our intention is to solve the last one. We don't think we should be sitting in 2030, where any company is set up in India with paper certificates, we don't think it will happen. Somebody will solve the problem if we don't solve it," he said.
Qapita operates on a fremium model. Only after arriving at certain thresholds of number of users or stakeholder, and capital raised, does it start charging startups about $1 per stakeholder per month. There's also enterprise-level custom pricing for large employee bases.

Using Qapita also makes it easy for venture capital funds to evaluate startups and carry out due diligence, with equity information being well organized and up to date. The company intends to build product layers for funds to manage entire portfolios, and ESOP liquidity as well, and become a one-stop shop for governance, risk and compliance (GRC). For the sake of transparent and fair audit trails, all transactions and activities of startups in Qapita are mapped on to the platform as banking transactions so as to avoid manipulation in future.
Six months since its launch, Qapita serves over 100 companies. Of those, 50% are based in India, 25% in Indonesia and 25% in Singapore. Given its early-stage nature, the company declined to offer a growth projection.
Toppeq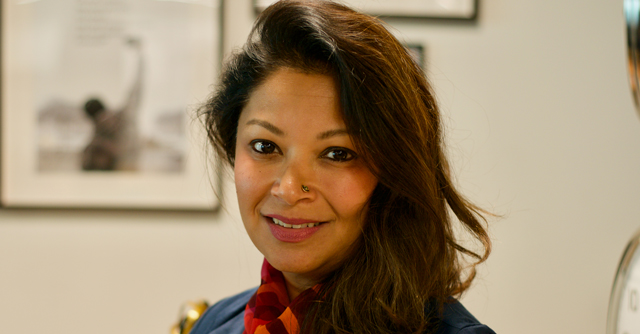 Toppeq founder and CEO Nandini Sankar| Credit: Toppeq
Mumbai based Toppeq was founded by former global financial services executive Nandini Sankar, whose quest started with a simple question – why do good ideas fail? "Lots of good ideas fail simply because people run out of cash," Sankar told TechCircle in an earlier interview last June. So, she decided to build a tool that would help entrepreneurs manage their working capital and cap tables more efficiently.
An organized approach to managing capital came naturally to Sankar, thanks to years of professional practice. She was formerly the managing director for the Asia Pacific region at US based hedge fund administration firm SS&C GlobeOP.
With Toppeq, she built a business to digitize cap tables at startups, maintain ESOPs, organize legal and regulatory agreements onto a singular dashboard, augment professional services of accounting and law, as well as scenario modeling tools for startups to evaluate investment related decisions and shareholding.
The 20-member-employer Toppeq has tried to make it as seamless as possible for startups to adopt its services.
"The client just needs to send us a bunch of documents. Depending on how complex the client is, within a couple of days they are up and running live on the platform," Sankar said in a recent interview.
The emergence of peers competing for the same market, Sankar said, has majorly influenced Toppeq's learnings over the past year. Its initial go-to-market strategy in India was to directly engage with startups. Sankar and team now primarily target incubators and venture capital funds.
"The other piece of the strategy that has now worked for us very well is we also started speaking to other players in the United States, primarily players who are building private exchanges, to see if we could partner with them and become a solution that they use for a cap table product," Sankar added.
Toppeq is now engaged with a US based private exchange – Sankar declined to disclose details -- as an exclusive cap table provider, with over 800 investors using the application. Private exchanges are trading platforms that facilitate secondary transactions and buybacks of private company shares among institutional investors and other entities. Carta's CartaX is an example.
As per testimonials on its website, Toppeq's clientele includes Caffice, Malpani Ventures and Afthonia Lab. From four clients in June 2020, Toppeq has reached 50 within the first four months 2021. The figure is only for India based clientele. Work on onboarding US based startups and associated regulatory requirements kicked off in March-April 2021.
For venture capital firms, Toppeq uses Natural Language Processing (NLP) tools to push information into its database in order to generate numbers and associated calculations for limited partner (investors in venture capital funds) reporting thereby avoiding manual collating or analysis. Within FY22, Toppeq aims to capture a total of six accelerators or funds as clients.
MyStartupEquity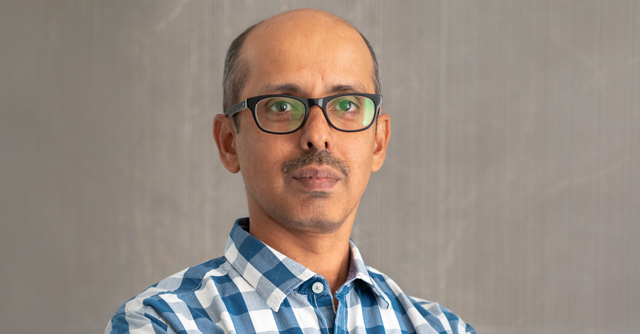 LetsVenture co founder and CPO Sanjay Jha | Credit: LetsVenture
"Having built LetsVenture Technologies (the parent unit of MyStartupEquity) since 2013, Shanti (Mohan) and I realized that many of the early-stage or even growth-stage startups have challenges in terms of managing their cap table, and ESOP allotments. In August 2019, we started building MyStartupEquity," Sanjay Jha, co-founder of Bengaluru based LetsVenture, told TechCircle.
Towards the end of 2019, MyStartupEquity found early adopters. In October 2020, it was servicing 100 startups. By April 2021, it onboarded over 240 startups. Even as LetsVenture caters to early-stage startups, 25% or about 60 startups of StartUpEquity were late stage or Series B onwards stages startup, having raised more than $10 million in funding.
"Currently, they manage everything in Excel, their finance guys or HR folks, they have to manage the data in Excel, with all vestings, your employees leave and their ESOP lapse, everything has to be done manually in Excel," Jha said.
With MyStartupEquity, he added, startups are now able to issue ESOP, e-sign, initiate employee exit processes, download tons of reports, view all the approvals, generate compliance reports for due diligence, with the click of a button.
Instead of maintaining 10 different versions of a spreadsheet, solutions such as MyStartupEquity help startups look back at historical data of cap table during different stages of equity issues, or convert convertible debentures into equity, all on a single interface.
Log-ins are provided to all stakeholders – the client company, investors, employees, and advisors. Operating on a freemium model, MyStartupEquity is free for up to 100 users, exceeding which the startup is yearly charged Rs 1,000 per user. PharmEasy, MobiKwik, Infra.Market, HomeLane, Zetwerk, Wildcraft, Darwinbox, Trell are some clients.
MyStartupEquity as a product is strategized as an initiation product to LetsVenture Plus. Launched in April 2020, LetsVenture Plus operates as a marketplace designed investors to access investments across growth stage private companies, unicorns and global funds.
"These startups grow, mature, raise a lot of funding. At any time, they need the soft liquidity. Some employees have to go through sub-secondary transactions... LetsVenture Plus is our platform for doing such liquidity transactions, secondary transactions, and even large growth, primary transactions where we come in along with VCs," Jha added.
In FY21, LetsVenture Plus carried out $10 million worth of transactions for multiple unicorns, and soonicorns, he said. Jha, while declining to share MyStartupEquity's growth projections on number of clients, said the platform wants to onboard Indian origin startups even with registrations in cities such as Singapore and Delaware. It has been scaling its products with features specific to regulations governing US companies. Currently, over 180 of the startup clients are India based and the remaining 60 are in Singapore, US, Indonesia, and Malaysia.
"If you look at just from the lens of the number of unicorns we have had, the graph seems to be taking off only about the last few years. That is when it shows signs of maturity... I think, yes, probably, it could have been done four or five years back as well. But the time we started that is two years back is I think about the right time," Jha said, on being asked why it took so long for startups to used automated solutions onto cap tables.
Early entrants
Prior to the massive explosion of startups, both in India and globally, corporate solutions for ESOPs did exist. ESOP Direct, founded in 1999, and Corporate Professional's ESOP Guardian, launched in 2014, were early entrants.
However, with maturing startups, the lines between varied target companies are blurring.
ESOP Direct's clientele includes companies such as Northern Arc, Eicher Motors, Thomas Cook, SBI Mutual Fund, Future Retail, and Swiggy. ESOP Guardian currently services about 50 clients comprising the likes of the Aditya Birla Group, Cipla, Delhivery, Lenskart, and OYO. In a month or so it is also about to launch a cap table product, pushing itself beyond ESOP management services, Mohini Varshneya, head of the product, and partner at Corporate Professional, said.
---