Gurugram based short video app Bolo Indya was taken down from the Google Play Store on Tuesday night following a complaint by T-Series for copyright infringement of its music in a video on the app. The video was created by a content creator on the Bolo Indya platform and the app denied having any of T-Series music in its library.
In September 2020, T-Series had served a legal notice to multiple short video apps and content platforms including Bolo Indya, Mitron, MX Player's Takatak, Triller and Josh. It also filed a lawsuit against InMobi's short video content platform Roposo.
Email queries to Google from TechCircle went unanswered at the time of publishing this article. A T-Series spokesperson could not be immediately reached for comments.
A Bolo Indya spokesperson said in a statement, "T Series acted in bad faith by ignoring our communication to them to discuss content licensing, and by this move they are only discouraging the early stage startups. But we as perseverant founders shall always work in coordination with eco system and comply with all laws."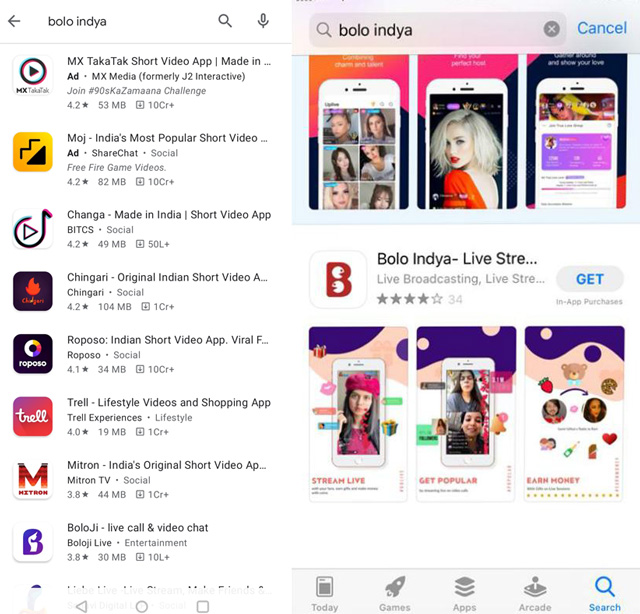 The statement further said that the company was in talks with T-Series and Google to resolve the issue, adding that it was not issued any notice by T-Series to act on the user-generated content. It said, "Google has removed us just at the behest of T-Series. We need Indian app stores to reduce monopoly."
Bolo Indya claimed to have around 68 lakh users including 28.5 lakh content creators on its platform in February. The app had introduced monetisation of its platform through virtual gifting earlier this year. The company is backed by early stage investors Inflection Point Ventures and Eagle 10 Ventures and was launched in 2019 by Varun Saxena.
Read: Chinese apps ban and the race for India's short video content market
Bolo Indya competes in a space which has three newly minted unicorns including Ver Se Innovations' Josh, Mohalla Tech's Moj and Glance owned video app Roposo.
---