Creator economy – expanding, adding and improving online content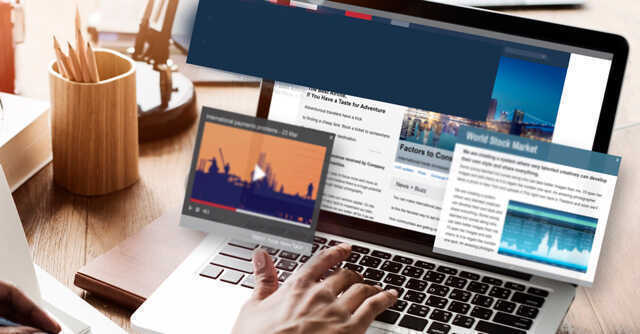 The rise of the gig economy in India through various startups created work opportunities for millions besides providing "ease of living" and "ease of access" to millions of customers. Another area where a surge is being seen is around the evolution of short video content platforms. This new form has given creators in big metros and tier 2 and 3 cities and towns an opportunity to showcase their talent, gain a following, start their journey on influencing, in the hope of leveraging brand sponsorships and potential ad revenue from the creative content they create.
Storytelling has existed over centuries and has been carried on over generations through various mediums around the world in every culture. Storytelling in India has had its own rich history and content which has been created and passed on from one generation to another through various forms that include scriptures, texts, writings, paintings, word of mouth, narrations, songs, stories, scripts, music, dance forms, theatre, plays, costumes, masks and even puppetry.
The modern devices of the previous century brought in devices such as audio and video recording to carry this forward through standalone devices. Simply put, storytelling has been one of the easiest ways to get the message through and creators and messengers have a big role to play in keeping it alive.

The current day medium of the internet and its various online avatars that include short video content have brought in a completely different perspective to storytelling and its content creators. For the past many decades, big media and entertainment were the predominant story tellers and content creators but this began to change with the advent of the internet. The internet and its various online platforms empowered ordinary "people like us" to create and publish our own content and tell a story. People began to like and subscribe to this new decentralized form and started consuming this content leading to the birth of the "creator economy".
When we look at the investment trend in India, it caters to a creator economy that's still focused on the discovery, while countries like the United States have given birth to hundreds of startups that help creators monetize faster. Many creators on established global platforms have been able to make a living out of it through brand endorsements, advertisements, subscriptions, or more due to a credible and trustworthy relationship with their fans.
India is fast emerging as a fertile ground for creators but needs to add more layers to this 'creator economy' through multiple startups that can cater to different audiences. Today the creator economy is beginning to boom with everyone trying their hand at creating content by cracking witty jokes, enacting stuff, cooking, playing games to tutorials on different subjects to even simply entertaining. With over 500 million smartphone users every holder may be soon itching to become a creator at least once.

But where is India's growth story headed to, when it comes to creators?
To understand, let us take a look at what a creator can do to build his or her own marketplace, which enables them to get financial independence. Using various online and app-based platforms content creators can earn through advertising, sponsored content, product placement, tipping, paid subscriptions, digital content sales, merchandise, shout-outs, live and virtual events, VIP meetups, virtual gifting and fan clubs and more as the creator economy unfolds.
In an episode of Lauren Schipper's podcast Creator Upload, Rich Greenfield of LightShed Partners said, 'Everybody on earth might become a creator' which if looked into, might actually be the potential size of the opportunity of creator economy.' The creator economy is rising in popularity rapidly. The SignalFire report mentions more than 50 million people consider themselves creators. The report further splits creators into amateurs at 46.7 million and professionals at 2 million with sponsored influencers contributing $8 billion. The US is already booming on creator economy tools focusing on monetization.

India's creator economy has a huge potential to dominate globally in next two years' time if we play it right. The scale of our young population is big added with an increased urge to be self-employed. Platforms need to open up more opportunities for creators to monetize.
The three top creator economy global trends project that creators are moving their top fans off social networks and on to their own websites, apps, and monetization tools, creators becoming founders, building out teams and assembling tools to help them start businesses while focuses on their art and finally creators gaining power in the media ecosystem as fans seek to connect with individual personalities rather than faceless publishers.
Thus, the creator economy is bound to be the next big livelihood creator in coming times where everyone is empowered to become one.

Rameesh Kailasam is CEO and president at IndiaTech.org. Tamseel Hussain is founder and CEO at People Like Us Create (Pluc). The views in this article are their own. Rameesh Kailasam and Tamseel Hussain
---
Rameesh Kailasam is CEO and president at IndiaTech.org. Tamseel Hussain is founder and CEO at People Like Us Create (Pluc). The views in this article are their own.
---