Digital technology has been advancing at breakneck speed in the last few years, giving companies access to powerful computing capabilities and better data storage and analytics, which enable firms to implement innovative technologies such as internet-of-things (IoT), artificial intelligence (AI) and machine learning.
Cloud plays a major role by supporting the delivery of needed IT resources on-demand amid the rapid digital transformation.
In India, cloud adoption accelerated during the pandemic as enterprises adopted new technologies to meet the demands of the business. To ensure business continuity, Indian enterprises moved various critical business applications such as email, web hosting, customer relationship management (CRM), enterprise resource planning (ERP) and human resources (HR) to the cloud.
While cloud adoption in India is in its early stages, analyst survey shows adoption will increase at least 12% within the next two years, with multi-cloud as the preferred deployment model at a 28% growth rate within the forecast period.
To maximize the benefits of the cloud, enable utilisation of existing assets and technologies, scale up and down as needed and avoid vendor lock-in, many enterprises are adopting multi-cloud strategies.
The key, however, adopting to multi-cloud successfully is devising a strategy that considers consistent security, faster time to agility, ROI and the total cost of ownership (TCO).
The multi-cloud opportunity
India is poised for significant growth as workforce talent and costs, sales maturity and advanced technologies create an attractive environment for companies to develop into globally competitive enterprises.
According to McKinsey, there is a great opportunity for India's IT sectors, such as digital services in automation, cloud, AI, IoT and big data analytics to contribute to the country's economic growth.
With this environment, the country's public cloud services market, including internet-as-a-service (IaaS), platform-as-a-service (PaaS) and software-as-a-service (SaaS), is predicted to grow at a CAGR of 22% between 2020 and 2024.
Investments in SaaS startups are also enabling the country to grow into a global supplier of cloud services. Moreover, the domestic demand for cloud is increasing as companies of all sizes digitalise and small and medium enterprises get better opportunities to compete in the market.
As companies progress on the digital transformation journey, the cloud is acting as the backbone for the adoption of all new technologies and will continue to be a vital part of modernization strategies.
Enterprises adopting a multi-cloud strategy are seeking constant availability and low latency, scalability, better data quality and improvements in ROI.
However, enterprises need to be aware of app sprawl, compliance requirements and differences in vendor portals to ensure that multi-cloud adoption is effective, seamless and secure.
Effective cloud management
The migration of applications and systems to the cloud is a complex process that must be planned and managed closely.
Taking advantage of the scalability of the public cloud, adopting edge computing capabilities and deploying mission-critical applications in a private cloud, require a strategy to allow data to be exchanged between systems and cloud environments.
It is estimated that by 2022, 30% of Indian enterprises will deploy various tools and solutions to manage their multi-cloud use.
Managed cloud service providers can help companies in navigating their digital transformation journey and assist them in designing a cloud strategy that works best with their IT environment.
With customisation, enterprises can get the most value out of applications and systems in the cloud. This also enables customers to gain multi-cloud connectivity in a secure, dedicated hosting environment and unite their entire hybrid environment across data center locations and multiple cloud providers.
Managed cloud service providers also bring economies of scale from relationships with hyper scale providers and deliver vendor-aligned architecture reviews. Few IT departments have these capabilities in-house and buying these consultancy services piecemeal is not cost-effective.
As high-speed connectivity becomes more widely available, enterprises increase the capability to leverage more of their data for analytics and decision making. The way that business leaders authenticate, manage and govern their multi-cloud environment will determine how successful it can be in helping the enterprise grow and compete globally.
The right management, as companies adopt multi-cloud, can help to accelerate innovation faster while minimizing risks.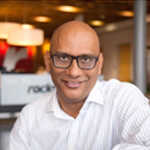 Sandeep Bhargava
---
Sandeep Bhargava is the Managing Director, Asia Pacific /Japan, for Rackspace Technology. With over 20 years of experience, he has held multiple roles in leading delivery teams in DXC, Hewlett Packard Enterprise and Procter & Gamble.
---