It was not too long ago when India was seen only as an outsourcing destination in the global technology landscape. But not anymore. Today, India has a booming start-up ecosystem with over 38,000 start-ups, over 50 unicorns and counting. The COVID-19 pandemic brought the entire world to a standstill but the Indian startups have only continued their onward and upward journey. In fact, as the world moved indoors, startups have steered us through these uncertain times with technology led innovations which have addressed many challenges – from healthcare to e-governance and from energy to skilling.
A Thriving Ecosystem
It is only appropriate that these transformative technological developments are receiving the right kind of support. Rising urbanisation, internet penetration and a tech-savvy generation is increasingly looking at technological solutions to ease their lives, ensuring demand. Investment in start-ups is flourishing, rewarding the resilience and flexibility of the sector which is leading to further innovations.
With such a thriving ecosystem, it is no surprise that angel investment has emerged as a viable asset class in the recent years.
Why Invest in a Startup?
With a maturing start-up ecosystem, investing in them – angel investing – has evolved from being a high-risk asset class for the uber rich to the most sought-after form of investment. Investing in bonds and gold has become less rewarding, giving an average return of 5-6%. Equities have continued to deliver solid returns but angel investment as an asset class has a potential to outperform Equities provided the risk reward can be managed well. This is where investing as a group can be beneficial because, if done well, it can lead to knowledge and resource pooling leading to overall higher returns for all.
Zomato's recent IPO listing is such an example where the stock prices rose dramatically from pre-sale value and increased the investors' holdings. In fact, today, if you wait until a start-up goes public, you could miss out on the huge pre-IPO gains. Clearly, if you pick the right start-up, angel investment gives you the opportunity for exponential expansion.
The sector is also receiving robust government support in the form of benefits and exemptions. Various government bodies and committees are formulating new policies to boost investor confidence in the capitalization of a startup.
But benefits of investing in a startup are not limited to monetary gains. Being an investor in a start-up gives you direct access to see how new technologies are developing and how they are being used to create innovative solutions and solving problems. It may even give you a sense of fulfilment to help someone build a business from scratch, support an innovative idea and see it changing and improving the country / world.
How to invest in a startup?
Angel investment platforms are bridging the gap between the investors on one end and startups on the other.
There used to be a time when you needed both wealth and connections to invest in startups. But that is no longer the case. One can participate in the sector through investing platforms offering a curated selection of companies. Angel investment platforms make investing in start-ups a viable investment alternative for a new generation of angel investors. They give you an opportunity to invest in a risk-controlled environment. Large group of investors and SMEs (subject matter experts) come together to conduct detailed due diligence and stick around to provide strong post investment support.
Investing via a platform gives you an opportunity to invest across different sectors and in firms at different stages of their growth journeys leading to a more diversified portfolio. The platforms are typically led by experts who pool their knowledge for informed decision making and efficient monitoring. They have the technology and the legal infrastructure that makes the investment process hassle free.
For the startups, angel investment not only brings them capital but also effective mentoring and networking. In the earlier stages, it is preferable to debt financing as most angel investors understand the business and take a long-term view on their investment.
Bottom-line
Startups are the future of our economy and are eventually going to represent what corporate India looks like. With the third highest number of incubators and accelerators in the world, India has the structural enablers that are coming together to foster growth in the start-up sector. Already, the unique solutions designed by Indian start-ups are being consumed in the local market. It will not be long before many of them turn their ambitions towards the global customers. Angel platforms are allowing more investors to participate in the startup ecosystem making it stronger with their capital and experience. Over the next few years, we can truly see angel investments being recognized as a viable investment alternative which has a potential of generating best in class returns.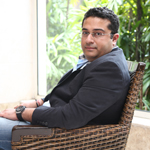 Ankur Mittal
---
Ankur Mittal is the co-founder of Inflection Point Ventures. Views expressed in this article are his own.
---