When robots, AI do the farming for you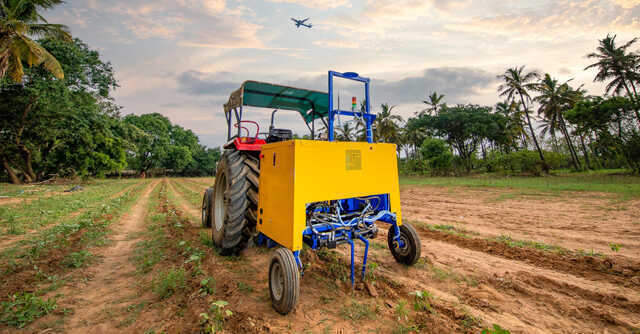 Hundreds of startups in India are looking to transform India's $370 billion agriculture sector using emerging technologies such as artificial intelligence (AI), machine learning (ML), and robotics to help on farm lands.
The smart solutions include fruit-picking robots, autonomous electric tractors, and fertilizer-spraying drones to high-tech systems capable of digitizing farm management, tracking crop growth and health, and predicting its yield.
Removing weeds, for instance, is an onerous task to begin with. "If the labour is skilled enough, he (the farmer) should take a little more than one day to remove weeds from a one-acre land. If not, maybe even more," notes Rakesh Verma (not his real name)--a farm owner in UP's Jaunpur city. He pointed out that the task "has to be repeated, which is very time consuming. For the worker, it is additional manual effort, along with fertilizing, sowing, spraying, and harvesting of crops".

But what if that same piece of land is handled by a robot that uses computer vision to do the same job by recognizing and removing unwanted plants automatically? There will, then, be no need for any manual effort since the robot can finish the task faster and with more precision. "It could do the same job within 90-120 minutes," Jaisimha Rao, the founder of TartanSense--a company that makes such robots.
TartanSense, which has also built a robot for automated spraying, is just one of the many startups looking to transform India's $370 billion agriculture sector using emerging technologies such as AI, ML, and robotics. There are 1,255 active startups in the country's agritech space, of which 150 have been funded, according to data shared by Tracxn.
Bengaluru-based Pixxel, for instance, is working on satellites that could capture hyperspectral imagery (which is in hundreds of wavelengths in the entire visible and infrared range) from space and provide farm owners critical information such as the nutrient content of the soil and whether the farm is adequately irrigated or not. Such solutions can directly help farmers determine what would be best for their crops, allowing efficient plant-level decision making and improving the quality and quantity of their produce as well as time-to-market.

"AI-based solutions are playing an important role in improving farm productivity as well as removing supply chain constraints and increasing market access. AI can catalyze the entire agri-value chain and weed out the causes for persistent inefficiencies in the business," Mark Kahn from Omnivore--a prominent investor in the agri-tech space, said, adding that the sector has begun gaining traction only in the last five years and continues to grow steadily.
More importantly, robotics and AI-based farming solutions could even tackle the challenge of scarcity of labour. "As more and more farmers exit this sector (due to urbanization), farm labour will be in short supply, and the skilled kind will be expensive. Add to that strained working capital, prohibitively costly inputs, and dwindling natural resources," Kahn added. "Affordable and efficient robotics-as-a-service can potentially solve all of the listed problems and much more."
These agritech are well-funded too. Between 2017 and 2020, Indian agritech startups drew about $1 billion in funding. The trend is expected to continue, with the $24 billion market growing to $30-35 billion by 2025, according to a report from Bain & Co. "We expect this versatile technology to attract significant funding in the coming days. Case in point, our portfolio company AgNext. Recently, the startup raised the largest Series A funding received by an Indian agritech startup to date," says Kahn.

However, getting such technologies ready for the farmland is just one part of the solution. These robots and systems also have to be adopted by farmers, which is a challenge in itself.
India's agriculture sector is massive, accounting for 18% of the country's GDP. And, more often than not, farmers have to deal with arbitrary price setting, unreliable payment schedules, and low working capital which makes convincing them to try a different working approach extremely difficult.
"For farmers, technology is not about convenience or saving time but rather a tool for augmenting incomes. If a startup can prove that its technology can deliver better returns (and pay for itself), then adoption is bound to be smoother," Kahn emphasized.

Beyond this, there's also the challenge of technical skill gap and frequent power cuts in rural areas that reduces the confidence in such solutions. The product should be designed in such a way that any person with minimal skills could use it and recognize how it will aid augment return on investment (ROI) and profits, note agricultural experts.
In the long run, as more and more people come online, these challenges could be addressed through education, innovation, and the support of industry and the government. The latter is most important as well-designed subsidies would encourage competition, driving companies to improve the market through better and affordable products and after-sales services, concludes Kiran Raj, principal disruptive tech analyst at GlobalData.
---