How MG Astor is setting the stage to transform Indian cars into platforms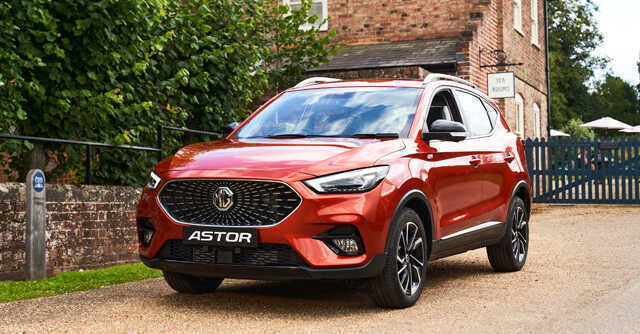 The MG Astor is all set to become the first affordable car in India to support level 2 autonomous driving. Smart driving aside, the Astor is also unlike most cars on Indian roads since it aims to transform a car into a service, allowing startups and app makers to use data gathered from the vehicle itself.
In an interview with TechCircle, Rajeev Chaba, President and Managing Director of MG Motors, said the company has been "inundated" with requests from startups who want to be "in the car". Edited excerpts:
How do you see the concept of a car-as-a-platform evolving in India? Are buyers changing today?

A trend which is undeniable is that the youngsters of the country are very tech savvy. They want to have seamless integrated experiences between all the screens. You have televisions at home, a laptop or desktop in the office, a smartphone, and a screen in the car. Millennials and Gen-Z would like to transfer the data in a very seamless manner, whereas people with older mindsets may question why they need the same functionality available on their phone in their car screens. The challenge is to provide this in a safe manner, so a driver isn't distracted by the features while driving. Which is why lots of features are disabled automatically when you're driving the car.
In the long run, you will have to work with peripheral companies to build the ecosystem. Are those companies ready for such digital transformation?
The first thing you need is a collaborative mindset at the leadership level. Right from the MG Hector, we had to tie up with many companies, like TomTom for Maps, Airtel for data, etc. Likewise with the Astor, we have joined with companies like JioSaavn and Koinearth right now. Lots of players have been talking to us, both public and private. There are two types of strategies — you either wait for the perfect time and solution, or you start and then evolve. We believe in the second, otherwise you will wait for 5G solutions for connected cars, charges on highways for EVs etc. We're getting a huge response from partners.

How are legacy players, especially insurers, reacting to this trend? Are they willing to adapt?
The good news is that even in those well-established, mainstream and conservative businesses, at least a part of them understand that they need to adapt because someone will disrupt their industry. In addition, partners like Koinearth are also talking to these companies, because it helps them build meaningful and impactful monetization services. In fact, some of the established names have come forward and have said they are willing to make the schemes for us, and are ready to change. We launched our first car in 2019, but we started working with startups in 2017 in anticipation of building our technology as a platform. We are also working with many institutes to improve the skill set of our technicians and sales personnel, and attend to the car whenever required.
Autonomous or other advanced technologies have mostly been a luxury feature in Indian cars, but Astor is more affordable. Are you making compromises in the technology to cut costs?

No. Let's be clear, level 2 autonomous means you have advanced driver assistance systems (ADAS), which makes the driver safer. All these are safety features and your hands always have to be on the steering wheel, but the car can help you whenever you are careless in the moment. In the Astor, we have worked with German, Chinese and Indian units of Bosch Mobility Solutions to ensure that the car is properly tested and there is no compromise.
However, we need to have functionalities tuned to the Indian traffic conditions, but there is no compromise. For example, in emergency braking the car will automatically stop if a car or bike comes in front of you. But if a pedestrian, cycle or animal comes next to the car but won't hit it, it may not beep a lot, because otherwise your car will keep beeping on Indian driving conditions.
What are these tweaks that you make to the technology?

So, every function basically has an algorithm behind it. To make it 100% safe, you have conditions where certain features won't work below or above certain speeds, or when there are nuisances and distractions a feature may not work. Users also have the power to disable a function if they don't like it. We don't have only highways in the country, so perfect traffic conditions aren't there.
How do you think regulations will affect all this? Will it increase costs for you?
I don't see cost as an issue here. In terms of data, various governments are trying to finalize guidelines on data and e-commerce. As of now, compliance is a big issue for us, and we manage it. For instance, all our data is in Microsoft's cloud in Mumbai. We have also partnered with L&T Technology to perform cybersecurity audits of our car. I think regulations will also evolve over time, just like globally people are talking about how we use social media, sharing of information, fake news, monopolies etc.

---