Gadgets at Work: Microsoft launches Surface Go 3 in India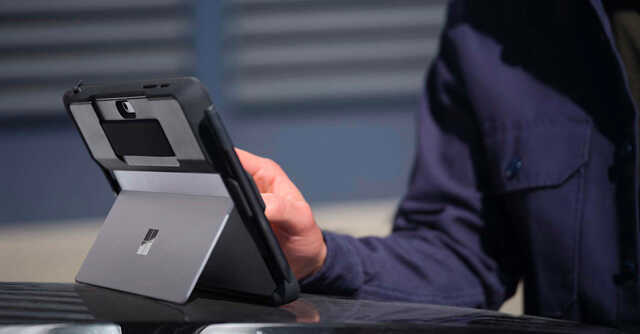 Gadgets at Work is a weekly section where we highlight gadgets and consumer products that can help simplify any executive's life.
Microsoft has announced the availability date of the Surface Go 3 tablet PC for the Indian market, which continues to grow in double digits.
In the last quarter (Q3 2021), PC shipments (excluding tablets) in India grew at 33 per cent, while tablet shipments grew at 19 per cent, according to Canalys.

Industry analysts feel with the return to the office, demand for PCs for the workplace is expected to increase again.
To tap into this growth, Microsoft is offering Surface Go 3 for enterprise buyers in three variants at a starting price of Rs 42,999 from December onwards through authorised resellers.
For individual buyers, Surface Go 3 will be available in a single variant on Amazon India from November 23 at Rs 57,999.

Surface Go 3 belongs to Microsoft's 2-in-1 tablet PC lineup that was launched to offer students and business users a more affordable alternative to the high-end Surface Pro devices. The first Surface Go device was launched in 2018.
The Surface Go 3 runs on Windows 11, has a big enough 10.5-inch touch display, supports a digital pen, offers audio output powered by Dolby, and has a full HD camera for video calls.
The device is also designed for users on the go and weighs just 544 gms without the detachable keyboard. Microsoft claims it offers up to 11 hours of battery backup.

The trademark kickstand that keeps the display propped up for work and entertainment has been included.
Unlike the standalone variant for consumers that runs on Intel 10th Gen Pentium Gold processor with 8GB RAM and 128GB SSD, Surface Go 3 for enterprise users will be available in three configurations.
The basic variant with the 10th Gen Intel Pentium Gold, 4GB RAM, and 64GB eMMC storage will be available at Rs 42,999. This one is aimed at entry-level users with very basic data entry requirements and can process simple tasks.

The second variant with 10th Gen Intel Core i3 processor, 4GB RAM, and 64GB eMMC will cost Rs 47,999. This has a more powerful processor but limited storage and memory. It can handle workloads better but the limited storage can be frustrating for many.
For users who need more performance output, Microsoft has a third variant that runs on 10th Gen Intel Core i3 processor, 8GB RAM, and 128GB SSD. It is priced at Rs 62,999. As compared to the Pentium-based variant the Core i3 variants are more likely to appeal to buyers in the enterprise segment.
---