Seattle startup claims Meta copied haptic VR glove design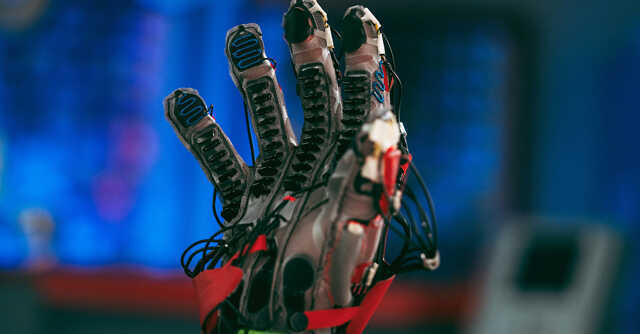 Yesterday, Meta's Reality Labs research team unveiled a glove that ties into its grand Metaverse plans. Today, HaptX, a known company working on various virtual reality (VR) and augmented reality (AR) technologies, has accused Meta of having copied its patented glove design. HaptX CEO and founder Jake Rubin published an open letter claiming that the Meta microfluidic VR glove design is actually something that HaptX has made before.
"Meta announced their own prototype microfluidic haptic feedback glove. The core components of this prototype, including the silicone-based microfluidic tactile feedback laminate and pneumatic control architecture, appear to be substantively identical to HaptX's patented technology," Rubin wrote in a post.
Meta posted a blog yesterday detailing its work on the haptic feedback glove in question. Through the post, the company's researchers have detailed the various processes that they adopted to make the gloves, explaining challenges that they faced while making the gloves – and how they got over them.

HaptX, on the other hand, claimed that they have previously played hosts for Meta's researchers. Rubin writes in his post, "In interacting with other companies in the VR industry, we have always believed that cooperation is paramount to the development of the industry as a whole. Over the years, we've hosted many engineers, researchers, and executives from Meta to demonstrate our groundbreaking haptic technology."
This isn't the first time or first company to level allegations of potentially unfair business practices against Meta, erstwhile Facebook. A September 2020 report by The Verge detailed how a number of independent developers claimed that Facebook was limiting their access to its erstwhile VR platform, Quest – hence limiting the potential for competition in a nascent market.
Meta has so far not issued a response to HaptX's claim, and Rubin said that he or his company haven't heard from them, either. "We look forward to working with them to reach a fair and equitable arrangement that addresses our concerns and enables them to incorporate our innovative technology into their future consumer products," Rubin said in the statement.

Whether the "equitable arrangement" means that HaptX would be happy with a potential partnership on future Metaverse projects, remains to be seen. The glove in question is not a product that will retail soon, but will likely tie into Meta's AR world plans in the long run. Whether this turns into a murky court battle too is not for the present to see, though.
---