There is no doubt that the covid19 outbreak has severely affected the healthcare sector in India, forcing this industry to re-look at their digital strategies and tech adoption. In the last 12 months, we have seen the industry greatly benefit from digital transformation. Technology innovations proved more important than ever for the manufacturing, procurement of vaccines and medicines, and made it accessible to the market faster than ever before. These innovations over the past few years have also proved crucial in-patient diagnosis, identification for clinical trials, medication manufacturer, and predictive forecasting.
The current situation has forced many other sectors to adopt digitalization as the road ahead. However, healthcare is undoubtedly one of the most prominent one, as it was running with excess restraint, amid a data explosion. The value of healthcare data is crucial and holds the key to identify patterns and trends that could lead to treatment and prevention breakthroughs. The technological ability to gather, store and analyse massive amounts of data can help organizations achieve a competitive advantage and improve the patient experience through more personalized treatment.
In a healthcare environment, data comes from a variety of sources. From patient intake forms and online bookings to clinicians' notes, prescriptions, lab test results, and diagnostic imaging. Every patient amasses a sizable electronic health record and this will continue to grow with the increasing popularity of Internet of Things (IoT) and wearable devices to gather more data about patients. The result will be a better healthcare experience; however, the immediate challenge is how to store and manage so much data.
Hybrid model to the rescue
There is no single solution to solve data storage challenges in any industry, and healthcare is no different to it. There is a growing need for hybrid storage systems to be implemented throughout the industry. Data explosion in the sector and the need for analysis of the same in a secure manner, has resulted in a variety of storage challenges.
Here, opting for edge data centres is crucial. The usage of cloud storage will offer both the ability to scale quickly as data grows, as well as enable remote collaboration on data sources across organizations and at different locations. Hence, utilizing a hybrid model of cloud and edge storage, along with a robust core data infrastructure, will allow the healthcare sector to analyse and process the stored data with utmost ease and flexibility.
Impact of scalability and real-time visibility
The proliferation of healthcare data is only set to increase as more technology is brought into the industry and the demand for digital services increases. Achieving a dynamically scalable storage architecture to cope with the waves of data will not only provide flexibility in the present but future-proof the infrastructure for years to come.
Ensuring the real-time visibility of data is imperative here. The COVID-19 pandemic resulted in immediate demand for large-scale data modelling and visualization to be able to track spikes in cases. This dramatic increase in data being written and read requires a scalable file storage system to store large data sets, while simultaneously requiring performance for analysis and visualization. Legacy systems and software may be reliable and user friendly in the short term. But with the vast scale of the data testing their limits, this sector will need to ensure that total cost of ownership (TCO) remains low, so that they can scale cost-effectively and achieve best performance density.
Road to Innovation
In my opinion, with increased adoption of technology in the healthcare sector, managing and analysing data securely will lead the path to innovation. A scalable data storage solution that's both cost-effective and secure to manage future growth is crucial. Utilising data correctly to understand the best products, supplies and practices in the sector will lead to efficient outcomes. This coupled with the support of predictive analysis, artificial intelligence, and machine learning will drive insights that accelerate new discoveries and enhance positive outcomes.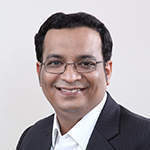 Amit Luthra
---
Amit Luthra is the Director and General Manager of Storage Platforms and Solutions at Dell Technologies, India.
---