Amazon to discontinue Alexa.com from May 1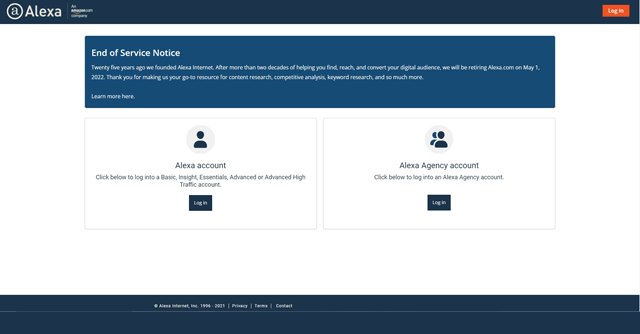 After a long service of 25 years, Amazon has now decided to discontinue its web traffic analysis arm Alexa.com from May 1 next year. The platform is worldwide known for its global ranking system to enlist the most popular internet companies.
A blog post on the website read, "Twenty-five years ago, we founded Alexa Internet. After two decades of helping you find, reach, and convert your digital audience, we've made the difficult decision to retire Alexa.com on May 1, 2022. Thank you for making us your go-to resource for content research, competitive analysis, keyword research, and so much more."
The company, however, did not cite any reasons behind the cessation.

Also read: Amazon server outage hits popular streaming apps, websites; fixes released
Significantly, the announcement has nothing to do with the Alexa voice assistant that Amazon offers on its echo devices
The e-commerce giant has already ceased offering new subscriptions and customers with existing subscriptions will continue to have access to the Amazon data and SEO tools until May 1.

Alexa was founded in 1996 as an independent firm and Amazon had acquired it in 1999 for $250 million. Its traffic estimates are based on data from its global traffic panel, which is a sample of millions of Internet users using one of many different browser extensions. In addition, it gathers much of its traffic data from direct sources in the form of sites that have chosen to install the Alexa script on their site and certify their metrics.
As of 2020, its website is visited by over 400 million people every month.
---