India Mobile Congress 2021 roundup: Prioritising 5G for India's $5 trillion economy target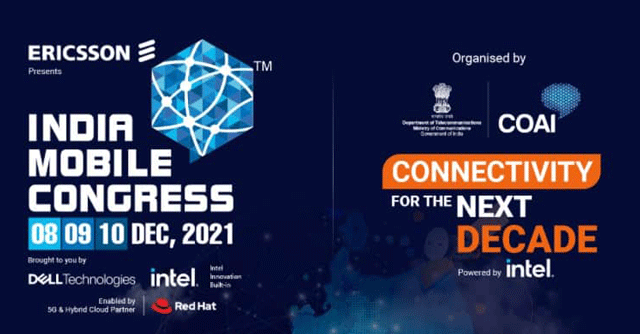 The India Mobile Congress (IMC) 2021 was hosted between December 8 and 10. Key stakeholders of the Indian technology industry, along with members of the Indian government, spoke across the three days. Discussions around 5G took centre stage, offering insights on the future of the Indian technology and telecom industries. On this note, here's looking at some of the key points that were discussed in the three days of IMC 2021.
Day 1: Telcos push to prioritise 5G, simplify regulations
On the first day of IMC 2021, the heads of Indian telecom companies spoke about emphasising 5G connectivity in the country. Kumar Mangalam Birla (chairman of Vodafone Idea backer, Aditya Birla Group), Mukesh Ambani (chairman of Jio backer, Reliance Industries) and Sunil Bharti Mittal (chairman of Airtel backer, Bharti Enterprises) all spoke about the need for India to prioritise bringing 5G connectivity to both enterprises and consumers in India.

"India must complete the migration from 2G to 4G to 5G at the earliest. To keep millions of Indians at the bottom of the socio-economic pyramid confined to 2G is to deprive them of the benefits of the digital revolution," said Ambani.
Calling for easing of telecom laws in the country, Mittal said, "More reforms in this sector are vital for a better future. 5G is already upon us, and we are all discussing beyond 5G, where India should be taking a leap in developing its own standards – for 6G and beyond."
Union IT minister calls for better service quality, trust and laws

Ashwini Vaishnaw, the minister for electronics and information technology, communications and railways, also spoke about the need to improve the quality of telecom services in India. "The Indian telecom industry has rapidly scaled up over the past seven years, from just about 6.5 lakh base stations to close to 23 lakh. While the extent of services has increased, the quality is an issue," he said.
Hinting at the need for India to become independent of telecom infrastructure equipment sourced from China and other nations, Vaishnaw further said, "People want telecom equipment, devices and network operating systems to be from trusted sources. New geopolitical realities are facing all of us. Under such circumstances, what is a good framework that can enable people to have trusted sources, good equipment and also increase the overall levels of trust in telecom services?"
He also urged industry stakeholders to offer recommendations to help set up a revised framework for the telecom sector, which can help companies adopt new technologies faster -- without disrupting legacy operation procedures.

Day 2: Reducing emissions, enhancing self-reliance
On the second day of the conference, keynotes at IMC 2021 underlined how India may stand to benefit from developing its own 5G ecosystem -- both for domestic consumption as well as exporting to international markets.
K. Rajaraman, chairman and secretary of the department of telecommunications (DoT), said, "The Indian Government wants to achieve self-reliance, especially in networking equipment and 5G. Therefore, the government wants to support both foreign and domestic investors to set up manufacturing bases in India."

"We have various domestic companies that have developed various components of the 5G ecosystem, also attracting foreign companies to set up R&D plants to create various components in India. Startups here play a major role in creating domestic use cases tailored for Indian problems, therefore, the government is keen to host various hackathons in order to get innovative solutions," he further added.
On the other end, experts also spoke about how investing in 5G can help reduce India's telecom linked emissions. Speaking on this, Nunzio Mirtillo, head of India, Oceania and South-east Asia at Ericsson, said, "5G can reduce the global carbon emissions to 15% by 2030, by reducing the energy consumption by radio network by 35%. We are creating partnerships with Hyperscalers and Cloud providers to explore various use cases for the successful implementation of 5G in India."
Day 3: 5G in India's $5 trillion economy

On the final day, DoT's Rajaraman spoke about the role that 5G can play in India's chase to grow to a $5 trillion economy within the next five years. "We need to revolutionise our digital communications systems. 5G will unlock a lot of innovation in the economy, with the low latency and high bandwidth that it offers. It will also bring in a lot of use cases that will specifically solve the nation's problems, in order to solve issues prevalent in the nation, the Government of India is enabling technology drives and hackathons to bring in innovation customised to India," he said.
In the digitisation journey of India, the final day also touched upon the role that inclusivity can play. Touching upon this, Abhishek Singh, president and chief executive officer of National E-Governance Division (NEGD) said, "In order to ensure that we do not create a digital divide, projects like Common Service Centers (CSC) were launched. Now CSCs are offering services such as telemedicine and digital education.
He further added, "We need to ensure that digital services are offered to every individual in the country -- and connectivity is the only medium for this. The current connectivity plan laid is to connect 600,000 villages in the country in the next three years, out of which 200,000 villages have already been connected."

---