After a dip in 2020, cryptocurrency scams saw a strong resurgence throughout 2021, according to crypto data platform, Chainalysis' 2022 Crypto Crime Report. In a preview of its upcoming annual report on the various criminal activities associated with cryptocurrencies, Chainalysis said that over $7.7 billion were stolen throughout the year, of which a major emerging category of crypto scams included rug pulls. On overall terms, crypto scams grew 81% year-on-year in 2021 -- after seeing a decline due to a steep rise in ransomware-related activity in 2020.
Rug pulls refer to a category of scams where its operators build a legitimate-looking cryptocurrency project on a decentralised finance (DeFi) platform. Such scams typically make the most of a set number of factors -- how building a crypto project atop the Ethereum blockchain is increasingly easier than before, and flaws in the code audit systems of DeFi platforms. As a result of the latter, a huge chunk of 'rug pull' scams could go through -- stealing more than $2.8 billion in cumulative crypto value in 2021.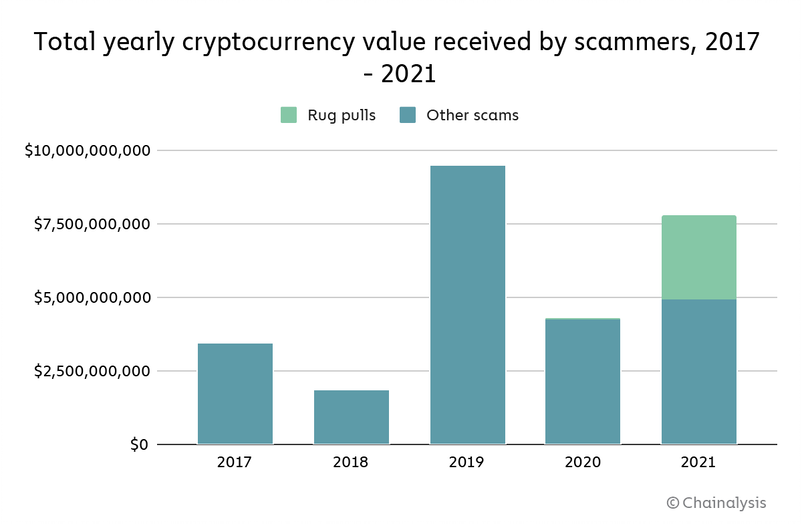 Credit: Chainalysis
It is this that represents one of the biggest rising threats in public use and trading of cryptocurrencies. In a rug pull scam, the perpetrators typically project their newly developed tokens with increasingly convincing backings. This in turn leads to increasingly higher trading value, before the ones offering the project suddenly disappear with all the public crypto money. Yet again, loopholes in audit and security systems of DeFi platforms are being blamed as the primary reason behind allowing this to happen.
Apart from the DeFi losses, Chainalysis said that investment-based cryptocurrency scams, which offer users derivatives based on crypto investments without proper certification from regulatory authorities, have remained flat since 2020. However, the platform said that while the total revenue from investment-based crypto scams has remained constant, the total number of exploited crypto wallets went down. This suggests that the value of each investment scam has increased, which is a clear reflection on the increasing adoption of cryptocurrencies as an alternate asset class from mainstream users around the world.
Also read: Emerging economies should regulate crypto, need global policy urgently: IMF's Gopinath
However, despite all of this, involvement of law enforcement in the crypto space is rising, leading to shorter life spans of crypto scams in comparison to before. "One reason for this could be that investigators are getting better at investigating and prosecuting scams. Previously, these scams may have been able to continue operating for longer. As scammers become aware of these actions, they may feel more pressure to close up shop before drawing the attention of regulators and law enforcement," the Chainalysis report said.
A more granular lowdown of cryptocurrency crimes committed through 2021 can be read in Chanalysis' 2022 report preview, here.
---