The annual Consumer Electronics Show (CES) has always been a place for both the bigger names in consumer technologies, and the smaller. While the big tickets pull off flagship products, the smaller names often come to the fore with unconventional but functional and futuristic gadgets. Invoxia, a company that has previously showcased wearables for pets, falls under the latter, with its new, smart dog collar.
It's not the first connected pet collar by any measure, but is likely the one with the most amount of technologies covered. The Invoxia collar features Bluetooth, Wi-Fi, GPS and LTE as connectivity options. One of its key features is to work like a Tile tracker for your pet -- using GPS and a pairing with a companion app on your smartphone, you can keep track of where your pup just ran away to.
But keeping track of the pets' locations is just one part of what Invoxia's new smart tracker can do. As reports have stated, the tracker uses a number of radar sensors integrated into the collar, which then combines with artificial intelligence (AI) algorithms to give pet parents a detailed health view of the pets.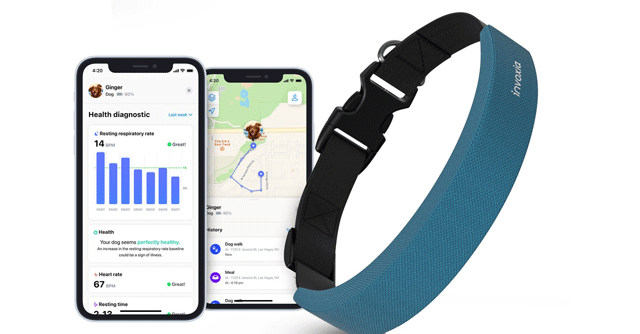 Invoxia
Also read: What to expect at CES 2022: Metaverse, wearables to make up for mass exodus
These details include heart rate, resting respiratory rate, resting time, latest walk and total walk time, meal frequencies and time, as well as a host of activity tracking such as running, scratching, drinking water and even barking.
The rationale offered by Invoxia behind the need to track such details for pets is to ascertain if everything's fine with them, without needing a veterinary expert around at all times. For instance, a low resting respiratory rate, or a sudden drop in the average time spent running per day may signify that your dog is suffering from some ailment -- which would be an indication to call the doctor.
Invoxia is presently selling the smart dog collar, unveiled at CES 2022, in USA for $99 (approximately Rs 7,400). There's also some subscription model for its GPS services, about which details are not very clear. Invoxia also clarifies that the smart collar will only fit medium to large sized dogs -- and not pups.
In India, if you'd want to get your hands on smart pet collars, the easiest options are to opt for GPS tracker collars, which are available aplenty. Interestingly, Wagr.ai, a seed-funded, Bengaluru-based Indian startup that was one of the winners of the Qualcomm Design in India Challenge 2019, has been building a similar pet tracker that can read location data and vitals of dogs.
However, while Wagr.ai appears to have expanded its service into a full-scale pet care e-commerce portal, its tracker is not in the market yet -- although it still gives users the ability to sign up for it and join a waitlist.
---