Apple has introduced two new devices in the Mac PC lineup — a desktop PC called Mac Studio and a monitor called Studio Display.
The Mac Studio will be available in two variants, one of which will be driven by the M1 Max chip that was launched in October 2021, while the other will run on the new M1 Ultra chip announced last night.
The Mac Studio will start at Rs. 1,89,900 and the Studio Display will be available at Rs. 1,59,900 in India.
"We've had an extraordinary relationship with the creative community and the Mac has been such an important tool for these users. We're excited to bring them an entirely new system, MAC studio and Studio display and to see all of the amazing things they will do with it," Tim Cook, CEO, Apple said at the Spring event.
Mac Studio
Mac Studio retains the box-like design of Mac desktops and has the trademark single aluminum exterior with a footprint of 7.7 inches in width and 3.7-inches in height.
For connectivity, the Mac Studio has four Thunderbolt ports to connect displays and high-performance devices, a10 Gigabit Ethernet port, two USB-A ports, an HDMI port, and an audio jack for high impedance headphones or external speakers. The system supports WiFi-6, Bluetooth 5, and has an SD card slot.
In terms of CPU performance, Apple claims the Mac Studio with the M1 Max is up to 2.5 times faster than the fastest 27-inch iMac and up to 50% faster than Mac Pro with a 16 core Xeon processor. Graphics performance on the Mac Studio with M1 Max is up to 3.4 times faster than the fastest graphics on the 27-inch iMac and is three times faster than even the Mac Pro.
On the other hand, the Mac Studio with M1 Ultra takes performance to a new level, according to Apple. In terms of CPU performance, it is up to 3.8 times faster than the fastest 27-inch iMac and it's up to 90% faster than Mac Pro with 16 cores.
Graphics performance on Mac Studio with M1 Ultra is 4.5 times faster than the 27 inch iMac. It's also 80% faster than the Mac Pro with its fastest graphics card.
According to Apple, the most powerful workstation graphics card available today offers 48GB of video memory. With the M1 Max users get up to 64GB of unified memory and on M1 Ultra 128GB of unified memory for graphics-intensive tasks.
Studio Display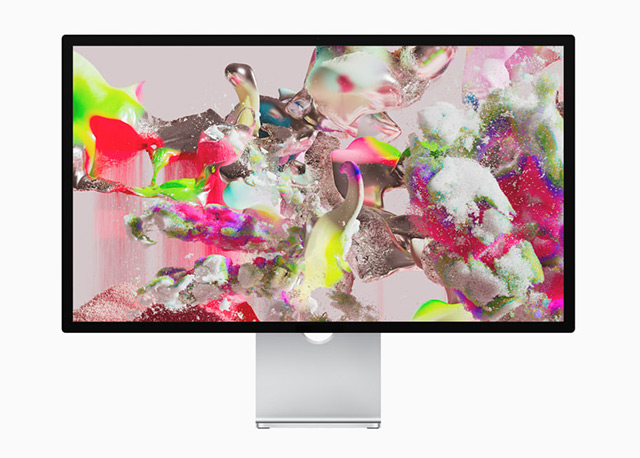 The Mac Studio display has a thin bezel design, aluminum exterior with a flexible stand that allows the screen to be tilted up to 30 degrees. Apple said the display can be mounted in landscape or portrait orientation.
The Studio Display has a 27-inch 5k Retina display with 600 nits of brightness and P3 wide color and support. It also supports a Truetone for natural viewing and a non-reflective coating to improve visibility.
To drive the Studio Display, Apple has used the A13 Bionic chip. It also includes a 12MP ultrawide camera used in iPad for video calling, has a three mic array, and high fidelity 6 speaker audio system. For connectivity, it has three USB C ports and a thunderbolt port. Apple said users can connect up to three Studio Displays with a MacBook Pro simultaneously.
---