Early 2020 saw the world literally coming to a standstill as the COVID-19 pandemic swept across geographies. While it drastically impacted lives and businesses, it also brought with it a silver lining in the form of accelerated digital transformation across the business ecosystem.
In order to stay agile and resilient, organizations adopted emerging technologies across various business functions and operations, ecommerce became mainstream with physical stores and marketplaces shutting down. Manufacturers and brands experienced a huge change in consumer buying behaviors as they strove to adjust to the new normal way of living. Interestingly, products and services that stood at a much lower rung on the demand ladder before the pandemic suddenly climbed up much higher than expected, leading to manufacturers and sellers of such products grappling to shore up the supply.
All these changes put further pressure on the already badly hit global supply chain system, with gaps with warehousing, storage, logistics and transportation coming to a glaring forefront. In fact, according to a report by McKinsey & Company in 2020, about 85% of global supply chains faced a reduction in operations during the pandemic, and around 6% shut down completely.
Closer home, the Indian logistics sector, which contributes almost 14.4% to the Indian GDP and is an employer to more than eight million people, was equally hit hard, and was at the forefront of the large-scale disruptions that the economy was undergoing. The pandemic also highlighted the criticality of building a better streamlined, formal, efficient logistics infrastructure in the country.
Two years down the line, the sector has undergone a massive transformation with technology underscoring this change. In fact, a recent study by Redseer suggests that the road logistic market is expected to reach $330 billion by 2025, growing at a CAGR of 8% in the next five years, on the back of key drivers such as growth of ecommerce and retail sales segments.
However, the sector's growth continues to be erratic due to the various challenges caused by the pandemic.
Challenges faced by the logistics industry
Impact on transportation: During the initial phase of the pandemic, the freight industry was amongst the first ones to feel the effects of the crisis as cross-border trade was curbed. With the travel bans, the passenger aircrafts that usually carry a small percentage of cargo in their under-carriers were grounded, resulting in increased pressure on the cargo carriers to meet the increased demand, and clubbed with heightened health inspections, only led to longer delays. Furthermore, for shipment of goods that did not require fast delivery, exporters would take the ocean routes.
However, as most suppliers shut down their operations, the sea transport also got adversely impacted with barely any cargo to carry. Land transportation including railways, trucks, etc. were in a similar situation. Along with increased state border health checkups, trucking companies faced challenges of getting special permits to operate essential service providers, meet the increased demand for transporting essentials within the city leading to work fatigue and stress increasing amongst the delivery vehicle operators, and many other such issues.
Workforce shortages: In a labor surplus country like India, it is much cheaper to deploy labor than to invest in automation of processes. Due to the extended lockdowns due to the spreading infection, and limited demand and supply of goods, many manufacturers were seen laying off their workforce and labor to reduce their operational costs. Further, migrating labor shifted back to their home states, causing further reduction of the labor force, putting huge strain on the logistics and delivery processes.
Inadequate resilience and business contingency strategies: Most of the operators within the logistics industry were caught unaware with this unprecedented crisis and were unprepared with effective business continuity and resilience plans that would ensure effective supply chain processes.
Overdependence on centralized sourcing locations. On the onset of the pandemic, businesses across industries were severely affected as the heart of global manufacturing- China - was the epicenter of the virus. This resulted in supply getting severely disrupted. To reduce this dependency on one source, businesses began to look to decentralize and relocate sourcing to locations closer to home. This in turn put more pressure on the existing warehousing and logistics infrastructure to expand their current capacities.
Role of Technology in Logistics
During the pre-pandemic times, like most other industries, the logistics industry, too, was undergoing a slow yet permanent digital transformation. The pandemic accelerated this process as logistics and supply chain operations became vital to support essential industries including pharmaceuticals, healthcare, F&B, and FMCG. The fast-emerging technologies today such as Artificial Intelligence (AI), automation, big data, analytics, and Internet-of-Things (IoT) are bringing a range of benefits within logistics.
Help in planning and predicting optimal transportation plans
AI and automation-powered solutions are increasingly being used in planning and predicting supply chains such as selecting the optimal transportation routes; reducing manpower requirements for repetitive, transactional processes and workflows relating to finding out the availability of transportation vehicles at any given point of time, time taken for particular routes and turnaround time for delivery of goods to the destination, etc.
Real-time shipment tracking
Logistics and cargo companies are availing the benefit of IoT-powered GPS-based devices that are used for geolocation data to facilitate product shipment tracking.
Forecasting for better supply chain management
Tools powered by big data and data analytics as well as AI use the vast historical data collected through IoT-powered devices including RFID tags; low-voltage networks, satellite trackers to monitor product locations in real-time and help in more effective future planning.
Reduced dependence on human intervention
With autonomous delivery vehicles and drones soon flagged to be the next evolution in technology, these promise to not only safeguard humans but also improve efficiency across the supply chain network with faster and error-free deliveries.
Paper-less offices and virtual payments
Automation of creating applications for key documents such as lorry receipts (LR) and proof of delivery (POD); digital payment solutions such as debit/credit cards, UPI-based payments, net banking, etc., introduction of virtual fuel cards, etc. offers the much-needed visibility and transparency in financial transactions as well as one step closer to contact-less logistics.
Keeping track of and sharing notifications of out-of-stock items
Keeping track of and sharing notifications of out-of-stock items to both upstream and downstream sides of the supply chain network to help bridge the supply and demand mismatch. This ensures optimization in product availability to the end customer, making it a seamless and convenient process.
Future Outlook
The disruptions caused by the pandemic brought to the surface the existing white spaces within the logistics space that were acting as growth laggards for what is considered to be the backbone of the supply chain system. Technology is bringing an evolutionary change within this sector by helping it become agile, effective, streamlined, and interconnected. The need of the hour is for the stakeholders within this sector- the logistics service providers, the manufacturers, sellers, etc., to establish structural reforms for a more streamlined and formal system, to ensure that this sector, poised at the brink of massive growth, aids in the country's economy recovery and future growth.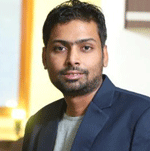 Gaurav Mangla
---
Gaurav Mangla is the chief executive and co-founder of Pickrr
---