HSBC's entry into metaverse may open doors for the banking sector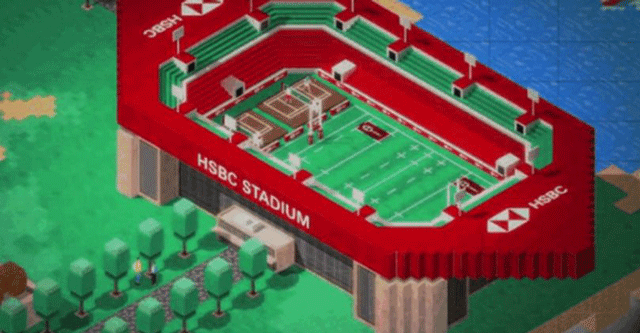 HSBC has become the latest financial institution to venture into the metaverse.
With almost $3 trillion in assets, it claims to be the first global bank to enter The Sandbox metaverse. The partnership is likely to open the doors for other global institutions, especially in the banking sector, to continue innovating in Web 3.0 as consumers demand more robust experiences in the virtual and immersive world.
'Metaverse' is a virtual reality world where users can interact, game and experience things as they would in the real world, with many of these platforms built on blockchain technology. Confined to science fiction until recently, metaverses exploded into the mainstream consciousness when Mark Zuckerberg announced he was changing the name of Facebook to Meta, touting it as "the future of social media".

The idea is that people will use "avatars" of themselves, through which they will interact with others, play games, shop, attend concerts and develop their own properties — and all of this in an immersive virtual world.
"The metaverse is how people will experience Web3, the next generation of the Internet — using immersive technologies like augmented reality, virtual reality and extended reality," Suresh Balaji, chief marketing officer, Asia-Pacific, HSBC, said, adding, "We see great potential to create new experiences through emerging platforms, opening up a world of opportunity for our current and future customers and for the communities we serve."
HSBC has bought a plot of virtual real estate called 'land', which is an NFT — a type of cryptocurrency called a non-fungible token that can hold both self-executing smart contracts and media like images and video.

"Through our partnership with The Sandbox we are making our foray into the metaverse, allowing us to create innovative brand experiences for new and existing customers. We're excited to be working with our sports partners, brand ambassadors, and Animoca Brands to co-create experiences that are educational, inclusive and accessible," added Balaji.
A growing list of top brands like Samsung, Adidas, Warner Music and top game developer Ubisoft, as well as celebrities like Reese Witherspoon and Lady Gaga, are diving into blockchain metaverses like The Sandbox and Decentraland. Others are mostly diving in via the US Patent Office, with companies like American Express, Nike and Walmart filing trademark applications to protect brands and also to prepare for what could be the Next Big Thing.
HSBC is also not the first major bank to buy into a metaverse, as JP Morgan got there first with a land purchase in Decentraland. The latter built the Onyx lounge, named for its commercial blockchain platform.

The metaverse holds huge potential for the banking industry. Analysts claim that metaverse could represent substantial opportunity for banking, with PwC estimating the global metaverse market growing from $45.5 billion in 2019 to $1.5 trillion in 2030. Morgan Stanley claims an $8 trillion metaverse opportunity — in China alone and Bloomberg forecasts metaverse revenue opportunity to be $800 million in 2024.
Banking in a virtual environment is not new. Second Life, one of the original 3D virtual worlds with avatars for social interactions was around for nearly two decades, and still exists. ABN Amro and ING, two European banks, opened virtual financial centres in Second Life though they shut down a few years later most likely because it didn't serve any meaningful purpose to customer's way back in the mid-2000.
Much has changed since then. Today, metaverse platforms are built on top of technologies such as blockchains, crypto exchanges, and NFTs, making them functioning digital economies. How quickly the banking industry can access and navigate through these trends is something one needs to watch out.

Sebastien Borget, COO and co-founder of The Sandbox, said, "We believe this is the beginning of a broader adoption of Web3 and the metaverse by institutions driving brand experiences and engagement within this new ecosystem."
While opportunities in the metaverse are plenty, some experts also believe banks (just like any other institution) must take small, baby steps to build a meaningful strategy, communicating value to customers, and build basic defi products before they gear up to join the metaverse bandwagon.
---