Video communication is key to businesses in this day and age. As one of the most prolific catalysts for enabling remote work and the future of work during the past few years, video calling transformed and evolved as a key preference for business-to-business, business-to-consumer and consumer-to-consumer conversations.
Whether it's aligning sales and marketing or coordinating on project workflow status, efficient and effective video calling is essential.
In the process, communicating via video call on strategy or instructions is improved with collaborative features like screen sharing, which further proves to be the next best thing to being in the physical room at the same time.
Video calling impacts companies in different ways. Perhaps why there is a simultaneous rise in adoption of Video-based Contact Centres, Telehealth, Tech support and virtual education.
However, there are some challenges such as connectivity and accessibility for end-to-end video infrastructure which lead to failure of certain types of transactions or engagements. And the probability of them being done over a video call is almost nil. It is not practically possible to set up large scale video-based call centres, but video will be used for escalations or for priority engagements.
There is still some time before artificial intelligence (AI) makes an influential impact on video and helps with analytics, recognition and authentication.
Better together with SMS and voice
While it's not wrong to say that SMS and voice became outdated and were replaced with newer technology, there are spheres in the industry where the two channels still and will continue to rule.
A few of such instances are elucidated below:
Commerce and transactions will not move to video as the level of authentication required is still not possible on this channel.
Industries like banking and other financial transactions will continue to favour SMS for authentication because of its secure nature and binding to a number.
Since SMS is simple, concise, neat and quick, it will continue to be the preferred medium for one way communication. For the guarantee and speed it assures, companies will choose it over Whatsapp and over-the-top (OTT) apps. Hence, booking reminders, critical banking transaction alerts will continue to happen with SMS.
SMS reigns at over 90% open rate. Since in nature SMS is concise and carries only the relevant data with an easy call to action, companies get the liberty to inform customers about sales, discounts, offers, new products and more!
Since the turn of the century, Voice has dominated communication and continues to be an important engagement channel. As the networks become better & efficient with 5G roll outs, voice connectivity will become faster & quicker leading to better reach.
Voice is also more cost effective as it is lighter on the networks.
With the pandemic followed a shift in the mindset, needs, and expectations of consumers. This has further led to Voice being evolved as a medium under the influence of Artificial Intelligence. Currently, there is a lot of AI work happening in voice for real-time voice analytics including Voice recognition, emotion & sentiment analysis. As these technologies mature, voice will start getting used as a preferred mean for authentication & transaction processing
For an enhanced customer experience and offering a high-quality product, it'll be essential for businesses to integrate the three key channels. On the other hand, while video continues to grow, there will always be areas, processes and industries where the role of SMS and voice will continue to be the preferred means.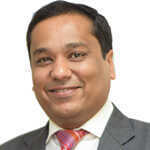 Pankaj Gupta
---
Pankaj Gupta is the chief executive officer and founder of EnableX.io.
---