Autonomous mobile robots take center stage in EV manufacturing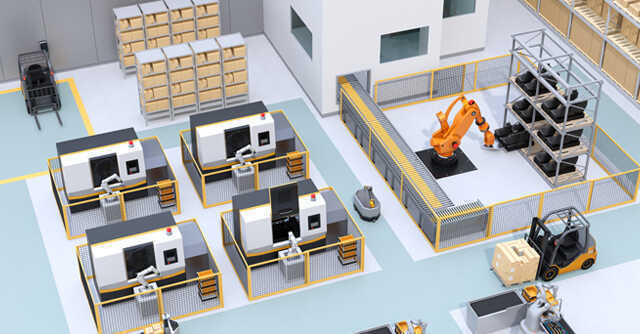 Automotive industry is one of the most automated and fastest growing industries in India. And the emergence of electric vehicles (EV) has induced complex manufacturing challenges, paving the way for robots, specifically autonomous mobile robots (AMR) for assistance in manufacturing.
The global market for AMR was sized at about $2.4 billion in 2021, according to a January 2022 report by research firm Statista. The market is expected to grow at a compound annual growth rate (CAGR) of around 23 percent, reaching the size of over 10.5 billion U.S. dollars by 2028, according to the report.
Joerg Reger, Managing Director of ABB Robotics' automotive business, said that manufacturers are currently having to produce a wider range of vehicles than at any previous time with both internal combustion engines, hybrid technology as well as full battery electric vehicles presently being offered.

"What this means in practical terms is differing assembly techniques being employed and a far wider variety of components having to be stored and then rapidly delivered to assembly areas," he added.
A report by energy conservation body, India Energy Storage Alliance estimated that the EV market in India is likely to increase at a CAGR of 36% until 2026. In addition, the projection for EV battery market is forecast to expand at a CAGR of 30% during the same period.
A November 2021 report by ABB outlines that faced with ambitious targets for mitigating climate change together with huge regional variations in regulations and consumer attitudes, manufacturers are responding by developing platforms and production facilities that accommodate a complex mix of powertrains, from petrol and diesel to hybrid and battery-electric, as well as emerging technologies such as hydrogen fuel cells.

"This variability introduces a new level of complexity that extends far beyond the factory walls and throughout the global logistics and supply chains. With conventional ICE powertrains sharing little with their EV successors, the sheer variety of components and processes that must be supported can quickly become unmanageable. Added to which, the speed with which market conditions, government incentives, legislation, and even the underlying technology itself can change means that manufacturers must seek to engineer even greater flexibility into their production facilities if they are to respond to this uncertainty," the report stated.
One of the most significant technologies in supporting this flexibility is the switch to more autonomous logistics and material handling in plants, the report suggests, with OEMs increasingly relying on Autonomous Mobile Robots (AMRs) to move materials flexibly.
Mobile robots help in the material movement from point to point in this sector. "Players like Mercedes Benz have announced a fully enabled floating S-class line with a massive fleet of automatic guided vehicles (AGVs). These fleet of bots share the workload amongst them controlled by a fleet management software & perform the operations simultaneously without any sequencing, like in the case of traditional conveying techniques," said Satish Shukla, co-founder and head, human resources and marketing, at homegrown global robotics company, Addverb Technologies.

"For AMRS & AGVs, the automotive sector is one of the largest sectors with huge ticket projects, where typically the number of robots purchased would be in the hundreds, against the double-digit numbers for other industries," he said.
In place of the conveyors and vertical lifts, which were used for material movement, among the multiple phases of the process, such as curing press to trimming infeed to primary inspection, tyre building and others, now flexible systems are being introduced such as AGVs, AMRs, RGVs (Rail guided vehicles) etc.
That said, the usage of advanced robotic and automation systems is not particularly new. "The major transformation has been in the warehousing space, be it in the raw materials storage area with sub-components or spares or the storage of final goods, like tyres. Many new inventions have been added to the ecosystem," said Shukla.

According to Pedro Pacheco, vice president analyst at research firm Gartner, AMRs play an important role in increasing the level of automation in automotive factories and logistics centers.
Gokul NA, co-founder and chief technology officer of robotic company, CynLr, noted that in many cases, especially in automobile assembly lines, robots have taken over potentially hazardous tasks like welding, milling, painting and others, thereby derisking human operators.
"Robots are used to manage demand fluctuations, especially the mobile robots that give the flexibility to scale manufacturing up or down," corroborated Shukla.

Robots are also widely used to meet labour shortage and supply chain shocks. "The COVID 19 pandemic shook the supply chains of almost all the industries and brought in labour shortages across the globe. With this, companies are now getting prepared to fight out these kinds of shocks," said Shukla.
---