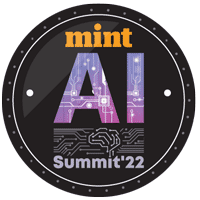 The tech industry has built individual artificial intelligence (AI) models for various problems, but a different framework is needed to solve problems of different industries as a whole, be it agriculture or healthcare. According to Shailesh Kumar, chief data scientist, Center of Excellence in AI/Machine Learning (ML) at Reliance Jio, the scope of "what we think as AI" needs to be expanded to cover different industries.
Kumar explains, today a farmer has to download 20 apps to get his work done. If you take agriculture there are many decisions to be taken--what to grow, when to harvest, where to sell, where to get fertilizers from. All these are decisions and any ecosystem is making thousands of such decisions every day. Similarly, how to build an end-to-end optimized refinery with thousands of moving parts and make it intelligent at the same time.
"We don't have a way to solve problems in healthcare or agriculture as a whole. We have to think of a new kind of economy where every person whether a student, startup, researcher, or an enterprise can contribute their API to the thousand APIs that we need to solve the ecosystem," added Kumar.
There is no single government, company, or startup that can do this, believes Kumar.
To build such an ecosystem we need to expand the scope of what we think of as AI, he added. Kumar has proposed a multi-layer architecture, where all data needs to be digitized. Different types of data such as speech, text, and satellite data need to be interpreted. Then, causality and prediction models have to be figured out. Explanability is the next layer, as AI cannot be trusted if we cannot explain why it made a decision, explains Kumar.
He further adds that deciding what variables are controllable is the next step. Then comes simulation. "We need to be able to simulate policies without doing it on the ground so we can optimize the system," he added. The last layer is adapting AI to different situations.
To prepare the future workforce for this new approach to problem solving, at the Jio Institute, Kumar said he is starting a program where he will focus on developing an intuitive and mathematical understanding of AI/DS frameworks, working backward from the problem statement, and building domain knowledge.
Watch the whole summit here link: Join us at the next big event on AI: Mint AI Summit - YouTube
---