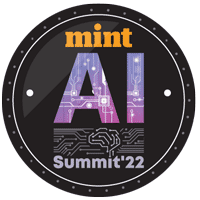 Artificial Intelligence (AI) can unlock huge opportunities for both enterprises and governments, but AI needs to be deployed at large scale for the same. According to Rama Devi Lanka, director, Emerging Technologies and officer on special duty at ITE&C, Government of Telangana, the government is looking to deploy AI at the same scale as India's Unified Payments Interface (UPI).
"If you look at the unified payments interface (UPI), that is the scale at which we are looking to deploy AI," she added.
Speaking at the Mint AI Summit on April 29, Lanka said that Telangana has identified agriculture, healthcare, education, transportation, smart cities, and climate change as some of the focus areas for AI implementation. However, she noted that the lack of availability of data can be a problem. Agriculture alone constitutes $65 billion worth of potential if data sets can be identified and made available, she said.
Lanka points out, enterprises can leverage AI to remain competitive and improve the bottom line. For governments, AI can enable solutions that can be deployed at a population scale and bring transformation in certain sectors by creating a huge socio-economic impact.
The newly created state of Telangana has been at the forefront when it comes to the adoption of emerging technologies such as AI and blockchain. Lanka said, Telangana set up a vertical on emerging technologies in 2017 and has set up institutes of AI excellence. The state has also been working with more than a dozen agri startups.
According to Lanka, a lot has changed in the last few years that has paved the way for AI adoption. "The cost of computational power has significantly come down," she added.
Lanka believes the data problem can be addressed with a data exchange platform. "Any entity that has data, be it government, the research institute, or startups, and wants to make it available to others can use this platform," said Lanka. Initially, it will be focused only on agriculture but will be implemented in other sectors.
Telangana is also planning to become a talent hub in AI. Lanka noted, we have trained 10,000 people and we will train 20,000 in the next 2-3 years. Across the value chain of AI, you need different skill sets. There is also a market related to data annotation which is estimated to grow to $7 billion and provide huge job opportunities. According to our estimate, it can create 1 million jobs. We are setting up data annotation clusters in tier 2 cities. We already have a cluster in Nizamabad.
Having said that Lanka believes that India has its unique challenges, which is why the AI solutions that India needs are also different. Lanka and her team are cognizant of it and are using AI in agriculture in different areas such as pre-season crop planning advisory, pest management, and output market linkages.
For instance, AI pest management has been implemented in six districts for the cotton crop. The AI solution can detect pink ball worms, a pest that destroys the cotton crop. This results in a lower number of sprays and lower costs for farmers in terms of fertilizers and pesticides.
Watch the whole summit here link: Join us at the next big event on AI: Mint AI Summit - YouTube
---