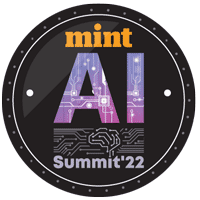 The rise of data in healthcare and complexities associated with it has paved the way for using artificial intelligence (AI) in the industry. Speaking at a fireside chat at the Mint AI Summit on April 29, experts noted that AI can not only reduce burden on doctors by writing notes in their stead, and also suggest diagnosis and treatment at times.
The panel discussion included Dr. Neeraj Mittal, Principal Secretary to Government, Information Technology Department, Government of Tamil Nadu and Gulzar Azad, Entrepreneur-in-Resident at Google.
The panelists noted that healthcare deals with large datasets, which brings with it added complexity of data. This, along side a dearth of specialists in developing countries like India have made machine learning (ML) and AI very relevant to the industry.
"The chief areas of applications include recommendation on the diagnosis and treatment front, patient engagement and administrative activities," said Mittal.
"The promise of AI really lies in reducing the administrative burden of clinical documentation, which means models which can reduce the burden on doctors writing notes. The other is to extract and export old information of patients automatically which are documented in traditional forms with minimum error," Mittal added.
In addition to the issue of large and complex datasets, healthcare also suffers from inconsistency, inaccessibility and affordability and lack of specialists in developing countries like India. Experts feel, in light of these issues, machine learning (ML) and AI become very relevant.
Azad points out, lung cancer results in almost 1.8 million deaths across the world. In 80% of people, it remains undetected in its early stages. Even after low dose CT scans, many get false negative or false positive reports.
"Google's recent research establishes that a CT scan can be developed that does away with false negatives and false positives results and that has been achieved by analyzing several datasets. There are several such progresses happening, so as AI in healthcare develops, the opportunity for India lies in being a nurturing ground for the intersection of deep tech and healthcare," said Azad.
Mittal noted that AI can definitely bear more results than where we are doing today. However, it needs to be ascertained that as the models improve, the data used to train the models is relevant, "otherwise there lies a risk. If we use US data to train an Indian algorithm, in many cases it will not be relevant."
Watch the whole summit here link: Join us at the next big event on AI: Mint AI Summit - YouTube
---