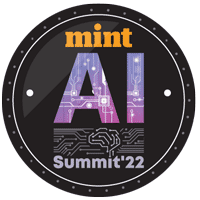 As the usage of artificial intelligence (AI) grows across India, the country needs to increase its focus on ethics and regulation of this technology. Speaking at the Mint AI Summit on April 29, experts noted that trust in AI is highest in India, but the country should look at examples of best practices from Germany, Hong Kong etc. who have their own recommendations for development and use of AI.
The panel discussion included Kashyap Kompella, chief executive officer of RPA2AI Research and N.S. Nappinai, Supreme Court Lawyer and cyber law expert. They also noted that AI researchers must work to mitigate human biases that may be built into AI systems from scratch.
Kompella believes AI and machine learning (ML) models are only as good, or as bad, as the data fed into them. "As AI technologies are modeled, specified, and overseen by humans, it is inevitable that we carry our biases into those systems we create," he added.
The problem, he pointed out, is that we often do it 'unconsciously', without realizing that our future societies will continue to run the risk of exacerbating those biases. This is why an ethical framework in AI becomes so important today.
One of the most reliable ways to mitigate AI bias is to conduct an AI audit just like a financial audit, suggested Kompella, who believes the field is still very nascent in India.
"While India has no specific laws that regulate AI/ML, and general cyber laws apply in case of AI-related issues, it is also not possible to bind everything into a 'special AI law'," said Nappinai.
Nappinai points out, AI is not just one subject, but in the ethics context, it explores several facets, including cybercrime issues, data protection laws, privacy, and many more. It is a jigsaw that is "scattered around us and it is important for us to 'put the price together."
"India should consider best practices from countries such as Germany and Hong Kong that have their own sets of recommended best practices for the development and use of AI," she added.
The Supreme Court in India talked about AI in 2017 in a child abuse case and also highlighted that AI can be an effective tool for fighting crime. The Indian government is also working towards introducing policies that mitigate AI biases, though it has a long way to go.
According to Kashyap, research studies have shown that trust in AI is the highest in India and in view of that "we need AI with an Indian ethos."
The panel discussion drives home the fact that ethical AI should no longer be an afterthought. Organizations that do not build ethics into the fabric of AI may risk violating the greater good of the community and the world at large.
Watch the whole summit here link:(367) Join us at the next big event on AI: Mint AI Summit - YouTube
---