'India needs international collaboration to ban cryptos': Nirmala Sitharaman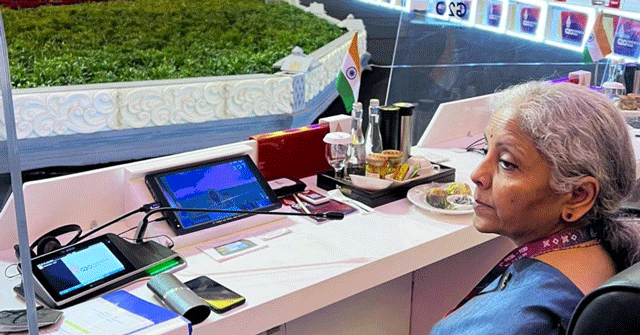 India needs "international collaboration" to effectively ban cryptocurrencies, said Union finance minister Nirmala Sitharaman in response to the Reserve Bank of India's (RBI) recommendation to ban cryptos.
Sitharaman said that the central bank has expressed concerns over cryptos and the risk they pose to the country's fiscal stability and has urged the government to frame regulations that would ban crypto.
"Any legislation for regulation or banning can be effective only after significant international collaboration on evaluation of the risks and benefits and evolution of common taxonomy and standards," Sitharaman said.

Though Sitharaman was responding to questions in Lok Sabha, according to a CNBC report,
the proposed crypto bill is not listed among the 24 bills that are expected to be tabled in the monsoon session of the parliament.
RBI has been advocating for a ban on cryptos for many years. Last month, RBI Governor Shaktikanta Das launched a fresh attack on cryptos and called them a "clear danger" to India's financial stability.

In March 2020, the Supreme Court overturned a 2018 ban by the RBI that prohibited banks from handling crypto transactions from exchanges.
RBI is expected to roll out India's central bank digital currency (CBDC) sometime this year.
Though the government is yet to take a stance on crypto regulations, as per reports, a policy on cryptos is being readied. India introduced a 30% tax on income from the transfer of virtual digital assets (VDA). It came into effect in April and led to a significant drop in crypto transactions in India. Transaction volume on exchanges in India fell by 30% to 50%, according to CREBACO (Credit Rating for Exchanges, Blockchains, and Coin Offerings), after the tax was enforced.

Last November, Prime Minister Narendra Modi also urged all democratic nations to "work together" to ensure cryptos like Bitcoin do not end up in the wrong hands.
The crypto industry body Blockchain and Crypto Assets Council (BACC), which strongly resisted a ban on cryptos, was dismantled last week by IAMAI. TechCircle reported that crypto companies and exchanges in India are working on a new industry body to represent their interests.
---