We now live in a digital world where users are used to interactive mediums. The Internet too has evolved to meet the changing expectations of users. From being primarily used as a text-based medium to being a channel for exchanging audio, video and images, the Internet has constantly evolved. The third and ongoing phase of the Internet also called as Web 3.0, is focused on creating a personalized, customized, and more interactive experience of the Internet.
According to Gartner, "Web 3.0 is the next-gen decentralized internet, providing a more personalized and interactive experience while giving users more control over their personal data and privacy."
The demand for Web 3.0 technologies is expected to be high, due to the rising demand for more interactive and secure platforms. A recent report by Emergen Research states that the global Web 3.0 market is expected to register a CAGR of 43.7% over the forecast period and revenue is projected to increase from USD 3.2 Billion in 2021 to USD 81.5 Billion in 2030.
With such a high growth rate, it is obvious that there will be tremendous career opportunities for Web 3.0 skilled professionals. Let us look at some of the key skills that the Web 3.0 ecosystem requires.
Blockchain
A blockchain is one of the key technologies in creating a decentralized version of the Internet. This is also critical for developing smart contracts, which are computer programs stored on a blockchain that trigger and automate the execution of a project or program based on certain conditions. The demand for blockchain developers, lead blockchain engineers or smart contract developers is huge. Knowledge of languages such as Solidity that are used for writing smart contracts will be critical for getting hired. Developers in the Web 3.0 world will need a clear and strong understanding of blockchain technologies and building decentralized applications (dApps).
UI / UX
As interactive mediums are one of the core characteristics of a Web 3.0 platform, there is huge demand for skilled UI / UX professionals. These skills will be critical for Web 3.0 companies as they seek to redefine and reimagine digital experiences with designs that are user-centric and attractive. Immense career opportunities are available as Lead User Experience Designer, UI/UX Designer, Product Designer and many more.
Augmented Reality (AR) and Virtual Reality (VR) designers
As the Internet transitions into its next avatar, the demand for AR/VR designers will skyrocket. This new Web 3.0 world will require experienced software engineers and product managers who are trained in creating immersive experiences using augmented and virtual reality technologies.
The world of Web 3.0 applications and services will be powered by a combination of different technologies. Besides the above-mentioned roles, there will be newer opportunities for people skilled in design, writing smart contracts, designing, and creating NFTs and building decentralized applications that can scale exponentially.
As the Web 3.0 ecosystem is still an evolving one, skills are scarce, and it would be fair to assume that skilled Web 3.0 professionals would get around 30% higher salaries than the traditional software engineers or those with generic UI/UX skills.
The Web 3.0 ecosystem is impacting a number of different industries, and skilled Web 3.0 professionals will find a huge world of opportunities and careers to choose from blockchain infrastructure development companies, startups, consulting firms, Big Tech firms and even end user firms.
The Web 3.0 world will be an exciting world, and if you are inclined to start developing the skills that are required in the marketplace, you will be blessed with extraordinary opportunities!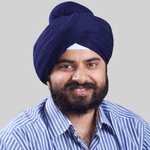 Jitendra Singh
---
Jitendra Singh is the Chief Technology Officer at TalentSprint
---