The front pages of the newspapers, it is said, are the mirror of society. An event of import that impacts, inspires or influences a common person will be documented on the front pages. So then, as a stakeholder in the crypto ecosystem, it gave me immense joy to see newspapers, national and international, documenting a significant moment in the short history of crypto on their front pages.
The transition of Ethereum— world's second-largest crypto by market cap—to a more energy-efficient and sustainable mechanism found a place amongst macroeconomic and geopolitical news of the day. It was a sign of changing times: Crypto has emerged out of the corners of Reddit to truly impact, inspire and influence everyday lives.
Yet, it would be a misplaced optimism if I were to believe that the tough and necessary work of crypto education is behind us. Recently, a gentleman commented on one of my social media posts that blockchain technology could prosper without crypto.
Can it? Let's dial back a little. Say, Nisha, a hard-working apple farmer in Himachal Pradesh, is selling her harvest. Both Nisha and the collection agent record the transaction, possibly on different ledgers—Nisha on her business diary and the agent on his. The agent then takes the apple cart to a distributor. The transaction is recorded, again on different ledgers.
The apples then continue their journey—from the distributor to a warehouse to an import-exporter to finally make their way to the refrigerated shelves of a supermarket in Dubai.
From the apple fields of Himachal to the supermarket shelf in Dubai, the journey involved several transactions, all isolated. Does Nisha know the retail price of her batch of apples in Dubai? Does she know how her batch fared against competitors?
Today, she would trust her collection agent for the information. The collection agent, in turn, has to trust the distributor's word—and so on it goes. Would it not help if there were a digital record—verified and trusted by all? Wouldn't such transparency and traceability improve efficiency in apple farming?
This is possible through blockchain technology.
Now, let's get back to the question posed by the gentleman on social media. Can this not be achieved without crypto? Actually, yes. From the farmer to distributor to exporter to the supermarket can all entrust a large technology company to run a database—for a subscription cost.
A vital piece of the agricultural supply chain controlled and executed by a large technology company? What can go wrong here? Surely, the profit-driven company wouldn't raise the subscription fee next year? Surely, they wouldn't simply downgrade the system because it couldn't meet their earnings projections?
Smart money says, all this can happen. This database controlled and executed by one entity is called a private blockchain. Let's just call it a database.
What's the alternative? A public blockchain. One that is not controlled by a corporation. Transactions recorded on this public blockchain will be maintained across distributed computers—or "nodes". But why would these "nodes" take part in the upkeep of a public blockchain? What's their incentive?
The answer is crypto. The native crypto on the blockchain is the incentive for the "nodes" to part with their computing power. The algorithm rewards them for their computing work in crypto. This incentive makes the disparate entities work together toward a common goal. In other words, crypto is the magic sauce that makes public blockchains function.
The Indian market is vast and diverse, and digitalizing the functions and processes through smart contracts will significantly improve efficiency and cut down costs. The transparency that served Nisha and her apple trade could serve other trade and commerce.
Greenshoots of such innovations are emerging in India too. The Gadchiroli district administration in Maharashtra has piloted a project to record and verify caste certificates on the blockchain; in Jharkhand, blockchain is used to record seed distribution.
This is all but a start. A regulatory framework that enables innovations can significantly accelerate India's progress in blockchain technology. Regulatory clarity will equip Indian startups to innovate on blockchains—to build for India's enterprises as well as small traders.
And thanks to crypto and public blockchain, we can build these capabilities without centralization at the hands of Big Tech. This would be the natural progression of Digital India to a blockchain-powered India.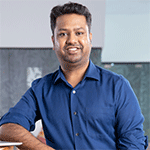 Ashish Singhal
---
Ashish Singhal is the co-founder and chief executive officer of CoinSwitch.
---