The advent of the 5G spectrum - it is a realization of decades of advancement in the telecom industry and India is set to see a massive rise in digital accessibility and mobile internet adoption. 5G is poised to deliver a staggering ₹ 36.4 trillion in economic benefits between 2023 and 2040.
The benefits of 5G technology is expected to be realised in the manufacturing sector (representing 20 percent of the total benefit), retail (12 percent) and agriculture (11 percent) etc. By 2030, the availability of affordable, 5G-capable mobile devices will bring over a third of all total connections to the 5G band. 
The economic benefits are immense but improvement in the quality-of-life that 5G enables is also noteworthy. Faster connectivity has always been an important factor for online gaming and the introduction of 5G could be a milestone moment for bringing mobile gaming to the mainstream.
The future of online games requires extra bandwidth, ultra-low latency, and superfast throughput speeds, which makes 5G ideal for delivering cloud-based games. Low latency? Check. Greater reliability? Yes again.
5G now enables lightning-fast speeds and concurrent connections, to the extent that is now possible to rethink how games are deployed. 5G's rollout will shift the storage, power consumption, and processing power away from the personal computers and into the edge cloud. Brand new experiences like VR gaming also become possible with just a headset. 
With a number nearing 500 million, India is the second-biggest player in the smartphone user base. With a nearly 400 million mobile gaming audience, 5G will make gaming a better and more accessible experience for them. The faster response times will also improve gameplay for games that are decided between the milliseconds.
Mobile RPGs and FPS shooters will now be able to deliver richer, enhanced gameplay experiences, further bridging the gap between mobile and mainstream gaming. After all, gaming has become a lifestyle today and a superior exterior will lead to higher viral coefficient and hence, an accelerated rate of adoption and growth for the gaming sector. 
The reach of gaming has also widened, with a marked increase in adoption within tier 2 and 3 cities. Multiple reports have confirmed that the availability of affordable, fast-internet-capable devices have prompted more people to take up gaming, and those numbers will only rise with 5G. Gaming, what was once common only within large cities, is now enjoying a growing popularity in all corners of the country.
So how do we deliver better experiences for this new, diverse, and engaged user base? Let's look at the lay of the land first. 5G is expected to have huge implications on India's growing digital economy, as well as its booming advertising and entertainment industry. It is expected to reach Rs 4,30,401 crore by 2026 at 8.8% CAGR (PwC's Global Entertainment & Media Outlook 2022-2026). The gaming industry, which is the fastest growing space in digital advertising, has the most to gain, given that India is a mobile-first country, across every segment. Over the next five years, the CAGR is expected to hit close to 40%, and over 20% of this would be driven by the introduction of 5G. 5G will allow gamers from remote parts of India to play high-quality games with ease.
This would allow for more localized events with higher participation and tournaments will be able to reach a wider viewing audience. This, in turn, will give brands more sponsorship opportunities, not only to reach out to a bigger audience base but also to experiment with more complex advertising formats which would otherwise be very data dependent. Having a large part of the country online will significantly drive change in how we understand and interact with our users. 
The many possibilities of 5G make it an exciting leap in technology for our country. Here's to a faster, connected, capable world!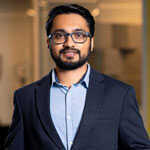 Avneet Rana
---
Avneet Rana, Co- Founder & Director of Technology, Baazi Games.
---