How the most popular cryptocurrencies rose and fell in 2022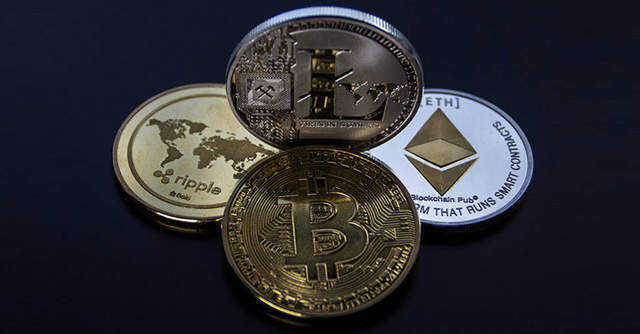 2022, safe to say, has been a watershed moment for the global crypto industry. Unfortunately, that is where its similarities with crypto industry headlines of 2021 stop. Unlike last year, the 2022 crypto industry saw a drastic decline owing to a host of factors, including a drop in the global equities markets wiping out liquidity — in turn signalling cryptocurrencies as an unstable market. Coupled with high-profile crashes such as the wipeout of stablecoin Luna, came the billion-dollar crash of FTX, one of the world's largest crypto exchanges, and imposing of heavy taxation in India wiping out rampant investor interest.
Cumulatively, the global cryptocurrency industry is presently worth less than $800 billion as per market tracker CoinMarketCap — down from a $3 trillion market cap that the industry hit in November last year.
Nevertheless, the industry still holds billions of dollars of investments and assets, albeit in a lopsided manner. As of December 29, while there are over 12,000 cryptocurrencies in the world, the top 10 seemingly hold over 85% of the industry's valuation. On this note, here's looking at the top 10 cryptocurrency tokens in the world.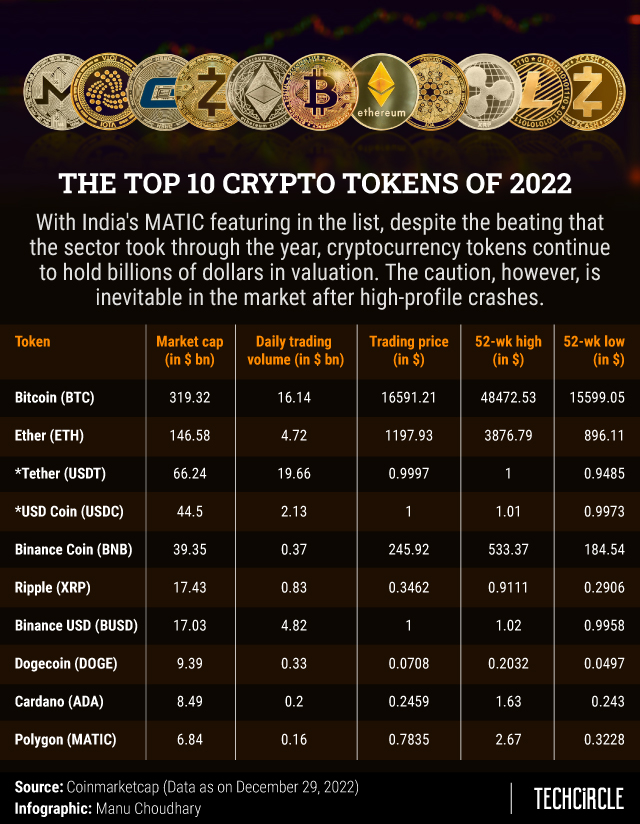 Bitcoin
Undoubtedly the world's largest and most prominent crypto token, Bitcoin's present value is about one-third of what its one-year peak was — and a fourth of its all-time high. Nevertheless, it still has over $300 billion in market valuation, making up over 40% of the entire industry's valuation by itself. The world's largest token, however, comes with its own set of concerns — it has typically been the first to nosedive in the face of concern, such as the crash of exchange FTX in November. A typical crash of Bitcoin has also wiped out billions of dollars from other tokens as well, and all of this combined has made 2022 a rather topsy-turvy year for it, at best.

Ether
The second largest crypto token in the world saw one of its biggest changes this year, with 'Merge'. The latter, which changed the underlying fundamental logic with which tokens from the Ethereum blockchain were mined, is expected to have made the blockchain more resilient, cleaner and better geared for the future. However, trading volumes are low, and like Bitcoin, Ether is also trading at just a third of its one-year high at the moment. While Merge was billed as an event that would make Ether lucrative to investors, such a move did not pan out — at least as of now.
Tether

While Tether presently ranks as the third highest valued token in the world, there have been a number of concerns regarding its position as a stablecoin. According to CoinDesk, Tether saw a decline of 21% at the time of the wipeout of beleaguered stablecoin Terra in May this year, and 9% during the crash of exchange FTX in November. These could be due to concerns regarding its investment holdings, which include corporate bonds and other variables, rather than 'stable' cash and treasury bill investments.
USD Coin
Of all stablecoins in the world, USD Coin has been the top performing stablecoin at the moment. It has showcased minimal volatility — in line with fellow stablecoin, Binance USD.

Binance Coin
Binance Coin has seen growth in trading volumes and market cap, amid rise in the BNB Chain's utility among decentralized commercial projects. The latest of the likes includes a project with German automobile major BMW, which will use BNB Chain as the decentralized platform that would settle transactions in the latter's loyalty program.
Ripple

Ripple, despite seeing a valuation fall akin to Bitcoin and Ether, continues to remain among the few consistent crypto tokens through 2022. The token, according to experts, is used regularly in international crypto transactions, making it of potentially strong value.
Binance USD
Alongside USD Coin, Binance USD remains one of two most reliable stablecoins in the world right now — which have, despite the volatility, held on to its valuation for the most part.

Dogecoin
What started as essentially a joke, has turned into the eighth most valued cryptocurrency token in the world right now. Dogecoin has seen a dramatic rise, but concerns remain regarding the utility and the purpose of the token — thus offering scepticism behind its use case. Last week, Dogecoin also dodged rumours regarding it switching to a proof-of-stake (PoS) mining mechanism, leading to a further drop in valuation over the past one week.
Cardano
In contrast to the energy intensive proof of stake crypto mining mechanism, Cardano has long been pegged as a resource-friendly crypto token. However, despite this, Cardano has faced a steep decline this year as well. Over the past one week, experts have pegged both an undervaluation in the overall value of the Cardano blockchain, and a potentially steep decline in Cardano prices next month.
Polygon
Entering at number 10 is India's MATIC, the token of the MATIC blockchain. The token is looking at a strong 2023, during which it is expected to roll out a new scalability solution that solves issues of the token, such as transaction fees and transaction speed. Reports have pegged the token to overtake Cardano next year — especially given that the latter may decline as well.
---