'Tech regulation should be done in national interest': Nadella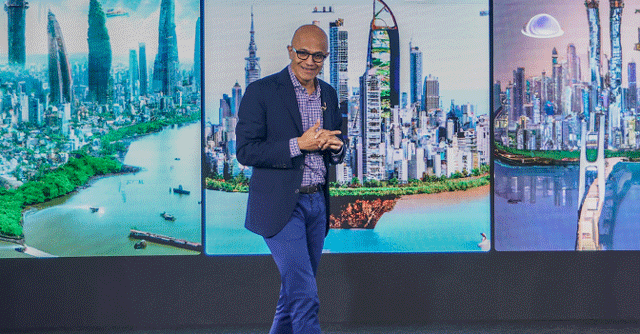 Eight years after he was named CEO of Microsoft—only the third in the 47-year history of the Redmond, Washington-headquartered firm that pioneered personal computing—Satya Nadella can be pleased with the bets he has made. His focus on cloud computing and artificial intelligence (AI) positioned Microsoft aptly for an era when the world embraced digital services and the web at an unprecedented rate, accelerating demand from businesses. Acquisitions such as LinkedIn ($26.2 billion in 2016), Github ($7.5 billion in 2018) and Nuance ($20 billion in 2022) have been both marquee and celebrated among some 90 acquisitions the company has made under Nadella. At a time when the world embraced remote working, Microsoft's Teams platform has become the most popular way for workers of the world to collaborate. All of this has meant that the company's market capitalisation has grown 450% in the time Nadella has been CEO (from $381 billion in 2014 to $1.7 trillion now).
The company's $1 billion investment in Open AI LP, the for-profit arm of Open AI Inc.—the buzzy non-profit behind Chat GPT that is all the rage in the tech world right now, is being seen as giving Microsoft an advantage in fusing AI into search to usher in new ways in which we seek information online.
During his ongoing four-day visit to India, the Hyderabad-born Nadella sat down with Mint for a wide-ranging conversation on AI, tech regulation, start-ups, modern work, India's public digital infrastructure and how he views his own run at Microsoft. Edited excerpts:

Are you looking at Bing launching with ChatGPT or another language model built in?
Read the full story on Mint.
---