assistive tech, exoskeletons, Ara, Samsung, Sony, rehab tech US-based Daniel Apolinor, 31, lost his eyesight eight years ago due to retinal detachment in both eyes. However, instead of depending on a cane, Apolinor straps on a device called Ara to his chest every day, which helps him navigate through everyday obstacles while walking.
Developed by Texas, US-based startup Straptech, Ara is strapped around the chest and is designed to provide the visually impaired with a sensor-driven product that is more reliable than a regular walking stick.
It has specialized components placed in each shoulder strap and in the main core that is worn around the chest, to provide an instant alert to users through haptic feedback. The intensity of the vibration varies and is specific to the kind of obstacle detected by the device. "The vibration is strongest when Ara detects a curve or a hole in the user's path," a company spokesperson told Mint at CES 2023.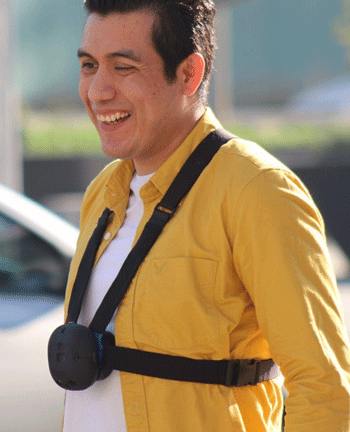 Ara is strapped around the chest and is said to be more reliable than a regular walking stick.
"A cane gives a certain degree of independence but it doesn't solve many problems like obstacles or barriers. You have no certainty on where to look, so having the device tell you up or down or middle, really guides you in a much better way," said Apolinor in a statement.
Ara is one of the many assistive and accessibility tech products that were showcased at the world's largest consumer tech show earlier this month. Assistive technologies, which help the physically challenged navigate everyday life, are expected to pick up fast in 2023, not just globally but also in India.
Physical rehabilitation in India is a $17 billion market, said a report by market research firm Redseer, which emphasized on the need for tech driven solutions. The report said that the market includes restorative care (recovery after a complex surgery), Geriatric care (medical care to optimize functioning in elderly people), and Pain Relief, and consumers are not satisfied with rehab solutions provided by hospitals etc. at the moment.
The need for such devices has also been recognized by health organizations and governments. According to a March 2022 report by WHO-UNICEF, more than 2.5 billion people need one or more assistive products, such as wheelchairs, hearing aids, or apps that support communication and cognition, and over a billion do not have access to them, especially in low- and middle-income countries.
CES 2023 had around 78 global firms that attended the tech show to exhibit products that can help people overcome physical challenges, ranging from disabilities that impact the ability to move freely, watch TV or even play video games.
For instance, another US- based startup, Biomotum Health, showcased a lightweight exoskeleton called Spark, which can assist people with mobility issues caused by strokes or other neurological conditions. The exoskeleton is made from lightweight carbon fiber and is worn around the legs.
It uses a single rechargeable, interchangeable lithium-ion battery to power the DC motors that drive ankle actuation. As the user tries to lift the foot, the device helps it up, which makes it easier for the user to walk.
Ray Browning, CEO of Biomotum Health, said that the product has seen considerable interest from the medical community in India and is undergoing clinical trials and is a year away from Food and Drug Administration (FDA) clearance.
"We have held preliminary conversations about bringing this technology to India. There is more of an opportunity there than we anticipated. The initial customers will be physiotherapy clinics," he said.
Startups aside, large electronics firms like Sony and Samsung are also working on similar products. For instance, Samsung is adding a visual aid solution called Relumino in its TVs that will allow users with low vision to watch TV content clearly.
Sony, on the other hand, announced Project Leonardo, which is a customizable controller kit that will help the physically challenged play video games on the PlayStation 5 console.
"It is built to address common challenges faced by many players with limited motor control, including difficulty holding a controller for long periods, accurately pressing small clusters of buttons or triggers, or positioning thumbs and fingers optimally on a standard controller," said Hideaki Nishino, Senior Vice President, Platform Experience at Sony Interactive Entertainment.
To be sure, adoption in India has been limited so far, but industry experts said it is slowly picking up. Aashish Contractor, director, Rehabilitation and Sports Medicine at Reliance Foundation Hospital and Vijay Raaghavan, director of AI solutions provider Fractal Analytics, said high pricing has limited adoption so far.
Raaghavan added that growing awareness of self-care is leading to increase in consumption though. "The availability of a specialist in orthotics and prosthetics in hospitals is also important to drive adoption," he said.
Divya Prabhat, consultant ENT at Jaslok Hospital, said that adoption is higher in hearing-related ailments. "Many doctors in India are also recommending such hearing amplification devices to patients. Many of these hearing amplification devices are now digital and can be programmed as per the hearing loss. If there is a loss at a particular frequency amplification can be given at that particular frequency," she added.
---