Tech Mahindra to build AI, Cloud CoE in Saudi Arabia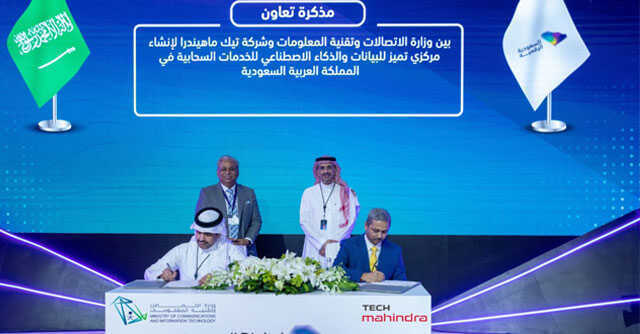 IT services firm Tech Mahindra will establish a data and artificial intelligence, and cloud centre of excellence (CoE) in Saudi Arabia's Riyadh. The company signed a memorandum of understanding (MoU) with the Saudi government's ministry of communications and information (MCIT) on February 8. This initiative aims to provide project development and training programs to 2,500 Saudi nationals in AI and cloud technologies.
"Adoption of Cloud, Data and AI will play a major role in Saudi Arabia IT and Digital Growth. We are very pleased to announce this initiative with a digital leader Tech Mahindra, which will bring global expertise and assets to Saudi Arabia and enable talent and IP creation over the next years," said Haitham AlOhali, MCIT vice minister.
The CoE will work towards building national talent capacity, creating job opportunities, upscale small and medium enterprises, and promoting digital innovation, a company statement said. The centre will work within the ethical AI guidelines to drive digital transformation and contribute to Saudi Arabia's Vision 2030 goals.

"In line with Saudi Vision 2030, we look forward to partnering with MCIT and local Universities to create an ecosystem that is diverse and digital first," said CP Gurnani, chief executive officer (CEO) of Tech Mahindra.
Under the partnership, Tech Mahindra will also host hackathons and design thinking workshops around data, AI, and Cloud technologies. This partnership is in line with Tech Mahindra's NXT.NOW framework, which aims to enhance the 'Human Centric Experience', and focuses on investing in emerging technologies and solutions that enable digital transformation and meet the evolving needs of the customer, the company said.
In January, Tech Mahindra signed an MoU with Japan for a smart city project under the NXT.NOW framework. As part of the project, Tech Mahindra is training local talent in software engineering skills, developing solutions for digitisation, and building new hardware and software products in the city of Tagawa.

---