Apple confirms first store opening for April 18, Tim Cook to visit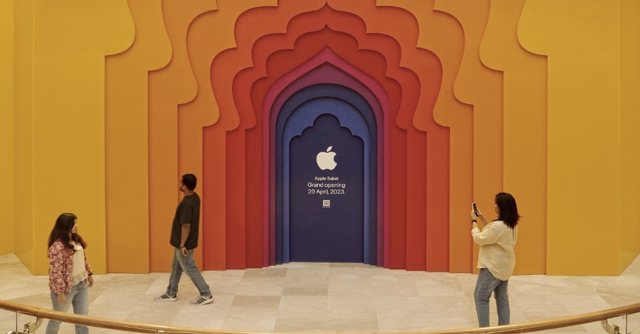 Apple on Tuesday confirmed that it will be opening the gates to its first physical retail outlets in India later next week, with its Mumbai store opening on April 18, followed by the Delhi store on April 20. Chief executive Tim Cook is slated to visit India to inaugurate the outlets, a Bloomberg report from earlier today said.
The move comes after Apple officially unveiled its physical storefront in Mumbai's Bandra-Kurla Complex earlier this month. On Tuesday, Apple also unveiled its Delhi storefront in the Select Citywalk mall in Saket. Apple's official opening of its own retail outlets puts an end to months of speculations around the topic.
Apple so far operated via third-party retail outlets in the country, in the physical retail space. In September 2020, the company opened its own online storefront, amid rising market share and demand for its iPhones and MacBooks.

Reports about Apple's lease contracts have claimed that the company has inserted non-compete clauses for stipulated areas around its stores across different cities in India. A report by The Economic Times said that Apple's BKC store measures 20,800 square feet, and will cost the company ₹42 lakh per month in rental. It has also specified the names of 22 companies — which include the likes of Google, Amazon, Sony and Bose — that may not be permitted to open their own physical stores within an unspecified vicinity of the store.
Apple is also expected to unveil a third outlet in Bengaluru, which according to The Hindu BusinessLine is nearly six times the size of its Mumbai outlet.
Alongside selling its products, Apple offers a wide range of experiences at its own physical stores — which include music sessions, paintings and more. On February 4, Mint reported Cook's statement in the December quarter earnings call with investors on being "very bullish on India", amid three straight quarters of double-digit market share growth for its iPhones.

According to data shared with Mint by Counterpoint India, Apple registered a market share of 8% to rank as the sixth highest-selling smartphone brand in the country for the December quarter — its highest ever in India. On April 5, following the announcement of opening of the store, Mint reported that while the stores may not have an immediate impact on the company's India business and market shares across different product verticals, the same may expand the range of business opportunities in the country.
---