TCS' Q4 margin flat, slower revenue growth paints cautious outlook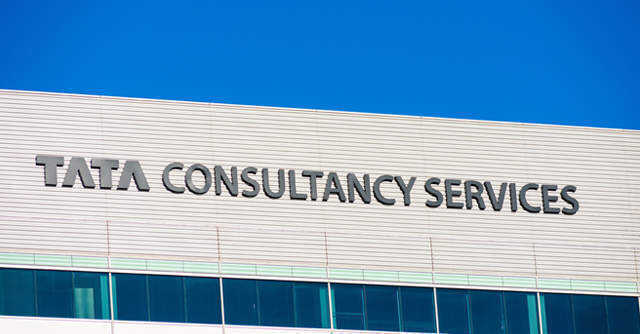 India's biggest information technology (IT) services company by market cap, Tata Consultancy Services (TCS) missed its 25% Ebit (earnings before interest and taxation) margin target, driven by an abrupt weakness in the banking sector in North America in the March quarter, as the hierarchy expressed caution going forward.
The company kickstarted the Q4FY23 earnings season by reporting a 5% sequential rise in its Q4FY23 net profit — up to ₹11,329 crore. The rise was driven by a strong order book that stood at $10 billion in the March quarter, and $34.1 billion for FY23.
Rupee revenue growth, however, slowed to 1.6% sequentially, mainly due to weakness in the banking, financial services and insurance (BFSI) vertical. BFSI witnessed a growth of a mere 9.1% sequentially this quarter, versus 16.6% in Q3FY23.

On the order book front, the IT bellwether said it saw resilient demand owing to an all-time high in the number of deals. The company, while failing to surpass its record deal win figure of $11 billion seen in Q4FY22, did move up from the $7-8 billion total contract value (TCV) range seen throughout the last financial year.
Rajesh Gopinathan, the outgoing managing director (MD) and chief executive (CEO) of TCS, painted a picture of caution in the quarters ahead.
"As we look at the near term, we'd shared that the demand scenario is varying by market. Last quarter, we'd expected North America to meaningfully recover through the start of the year. This recovery has obviously not materialised, and turned out to be more negative, or slower than what we originally expected — and the numbers show that as well," he said.

Gopinathan added that the near-term weakness in North America would be reflected across the market. "We're watching the current developments closely. Immediate impact is less, but of course, the near-term needs watching," he added.
Industry analysts painted a similar picture, as the company missed Street expectations in a weak quarter.
Biswajit Maity, principal analyst at Gartner, said that TCS could face "a number of challenges that can be quite serious, the first of which involves the attrition rate that is persistent."

"It is also important that most of TCS' workloads are based on legacy clients. If they are dealing with a majority of legacy clients, increasing operating margins becomes increasingly difficult," he added.
"Healthy deal wins, total contract value, strong client addition provides decent revenue growth visibility for FY24. However, near-term weakness in NA and BFSI sector crisis will impact demand outlook and overall global client sentiments. TCS is well placed to capture opportunities from optimisation and transformation opportunities, but North America weakness will keep near-term prospects muted," said Sanjeev Hota, head of research at brokerage firm, Sharekhan.
While Hota maintained a 'buy' rating for TCS, Mitul Shah, head of research at brokerage firm Reliance Securities, assigned a 'sell' rating to the stock.

Talking about the management transition, Gopinathan said, "The strength of our order book demonstrates the resilience of demand for our services and gives us visibility for growth in the medium term. Krithivasan and I are working closely to ensure that the leadership transition over the next few months is smooth and seamless to all our stakeholders, and that TCS is well positioned to capture the opportunities ahead."
To be sure, Gopinathan stepped down from his post earlier this year citing personal reasons. His successor K Krithivasan will take charge as MD & CEO from 1 June, 2023.
Going forward, the company has projected generative artificial intelligence (AI) as a key growth sector in the near term.

"Technologies like ChatGPT take time to mature. As it matures, we will be ready for it. We'll have a centre of excellence surrounding it, and have specific competencies built around it. We'll assess its drawbacks and find the pros, and find ways to deliver it the right and meaningful way to our clients. We're already working on this, and it's happening right now. We've been working on generative AI that generates more software for decades now — we have plenty of core technologies, architectures and libraries, and we're finding ways to deliver such tools to developers to use these in the best possible way," said N Ganapathy Subramaniam, chief operating officer of TCS.
The company has proposed a final dividend of ₹24 per share for FY23. According to a statement, shareholder payout in form of dividends stood at ₹45,602 crore for the full financial year.
On the attrition front, TCS claimed to have contained the rate to 20.1% for FY23, even as it has been reporting a rate of nearly 21.5% for the last two consecutive quarters.

Surprisingly, the company has declared to add only 821 employees this quarter against 35,209 in Q4FY22, its highest net addition in any quarter ever. Milind Lakkad, chief human resource officer at TCS, said in the post-earnings press conference that the company will payout 100% variable pay in Q4FY23, and "top performers" will be offered an appraisal of 10-15% this year.
On the operational front, Ebit rose marginally to ₹14,488 crore — up 1.4%.
"FY23 was a year of transition, as supply-side challenges abated while pandemic-depressed travel and discretionary spends normalized. We navigated this change well, without slowing down our investments in our people, research and innovation and intellectual property. Our longer term competitiveness remains intact, giving us industry-leading profitability even as we pursue our growth aspirations," said Samir Seksaria, chief financial officer and executive director, TCS.
On the segmental front, growth for this quarter was led by retail & CPG (13%), down from 17% levels seen in Q3FY23. This was followed by life sciences and healthcare (12.3%). Other services like technology, BFSI, manufacturing and communications and media grew in single digits.
The UK market led contribution to TCS' revenue in Q4, up 17%, followed by the Latin America at 15.1% and India at 13.4%. North America registered a 9.6% growth.
Shares of TCS ended with higher in a gaining market on Wednesday, up 0.9% at ₹3,242.10 apiece against BSE IT index's growth of 0.4%. The results were declared after market closed on Wednesday.
---