ChatGPT still no match for human intelligence: Kaspersky CEO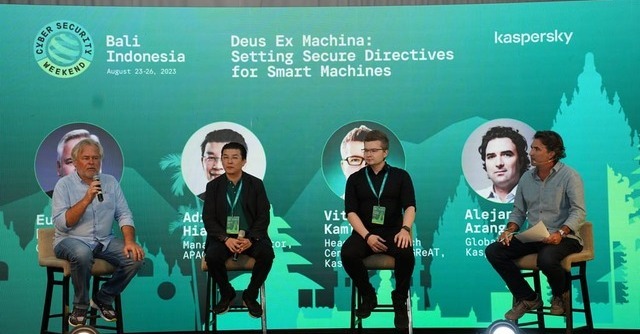 ChatGPT may be able to answer straightforward and simpler questions, but it is still no match for human intelligence, said the company chief executive officer, Eugene Kaspersky at the Kaspersky APAC Cyber Security 2023 event. Kaspersky was speaking during the panel discussion which also had Adrian Hia (managing director for Asia Pacific) and Vitaly Kamluk (head of Asia-Pacific research and analysis team).
Kamluk said during the panel discussion that ChatGPT is used by Kaspersky's teams for various use cases. However, there are a few restrictions placed on the usage like not passing confidential information or any markers that may identify Kaspersky's clients. "We can use ChatGPT to split up our job and optimise our work. However, it is just a large language model – sure we may use it for support but we do not place complete trust in the results it generates. The result undergoes further validation stage."
The annual event, which is in its ninth year, was titled "Deus Ex Machina: Setting Secure Directives for Smart Machines". The theme of the conference, held in Bali this year, was to chart up a secure map as the world embraces AI. The cybersecurity company emphasised its concept of cyber immunity.

"Kaspersky Cyber Immunity is an approach we recently trademarked in both the United States and the European Union. It embodies a secure-by-design system that makes it possible to create solutions that are virtually impossible to compromise and that minimise the number of potential vulnerabilities. In an age where technology can be used by good guys and bad guys alike, traditional cybersecurity is no
longer enough," said Kaspersky.
As per a study by market research firm IDC, AI spending in the APAC region is expected to double in three years, increasing from $9.8 billion in 2023 to $18.6 billion by 2026. This also puts the region at the forefront of AI adoption, with local enterprises in the region looking at embedding AI across business technologies in the next three years.

"IDC's report highlighted that China, Australia, and India are the three major leaders in AI spending across the region and I believe more countries will follow suit. This makes it ripe for us to chart a secure roadmap now when it comes to AI implementation and adoption in APAC to ensure that we harvest its advantages without compromising on cybersecurity," added managing director Adrian Hia.
(The author was in Bali on the invitation of Kaspersky to attend the Kaspersky APAC Cyber Security 2023 event)
---