Spotlight: CXO movement this week (Oct 21—Oct 27)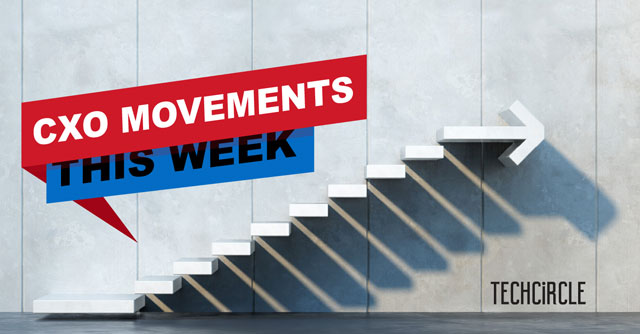 The festival week (October 21-27) saw only a handful of CXO movements in the tech industry. Technology firms like Aurionpro, Okta, BAM Digital Realty, and Opaque Systems, made important executive appointments, and non-tech firms like compliance services firm Aparajitha also appointed new executives to lead their technology business. Here's the roundup:
Girish Pai appointed as Hexaware's data and AI service line head
Global IT service provider Hexaware has announced the appointment of Girish Pai as the global head of its data and artificial intelligence (AI) service line. Pai, an industry veteran, has an experience of 28 years of working in domains like IT, digital strategy, and data and analytics. He has worked in companies like Tredence, Infosys, Idea Booth and Shopalyst. In his last role, he was the chief customer officer for Tredence. He is an alumnus of the University of Mysore and the University of Chicago (Booth School of Business).(Read more)

Compliance services firm Aparajitha appoints new CTO
Madurai-based Aparajitha Corporate Services Private Limited, a company that offers tech-driven compliance solutions, announced the appointment of Venu Murthy as its new Chief Technology Officer (CTO). Murthy, who has previously held pivotal roles in multinational corporations such as ThoughtWorks, Unisys, IBM, and Infosys, will guide Aparajitha's transition from a services-oriented to a product-centric model, particularly in the realm of governance, risk, and compliance (GRC) solutions. A B.E. in Electronics and Communications Engineering, Murthy has also authored several research papers and is a member of the Forbes Technology Council. (Read more)
BAM Digital Realty appoints CB Velayuthan as CEO

BAM Digital Realty, a joint venture between Brookfield Infrastructure and Digital Realty, announced on Monday the appointment of CB Velayuthan as its Chief Executive Officer (CEO). Velayuthan, who holds an MBA in Global Business from the Helsinki School of Economics, joins BAM Digital Realty from Equinix, where he successfully managed its business with partners as Global Managing Director, Strategic Alliances. Previously, he led Global Sales for Nokia, driving double-digit revenue growth. He also created a partner business unit and built nationwide telecommunications networks for key operators in the Indian market during his time at Nokia. (Read more)
Ashish Rai elevated to Chief Executive Officer at Aurionpro
Aurionpro Solutions has announced the elevation of Ashish Rai to Chief Executive Officer. In his previous role, Rai served as Vice Chairman and Director of the company, where he spearheaded the global expansion of Aurionpro Solutions' IP-led products and solutions. Rai is a veteran in the Fintech industry, with over two decades of experience in building and leading enterprise software businesses for global markets. As part of the leadership team at Aurionpro Solutions, he has been instrumental in developing innovative solutions to address industry challenges. Rai has played a key role in shaping the company's growth strategy, with a focus on building sales channels and growing a robust sales team of industry veterans. The increased investor engagement spearheaded by him has yielded positive outcomes for the company.

Opaque Systems names Aaron Fulkerson as chief executive officer
Technology firm Opaque Systems announced the appointment of Aaron Fulkerson as chief executive officer. Fulkerson joins Opaque with expertise in enterprise and open-source software expertise and decades of experience growing and scaling technology companies. Most recently, he was part of ServiceNow leadership team, where he launched ServiceNow Impact, a software unit providing AI-enabled value acceleration for ServiceNow customers. Meanwhile, former Chief Executive Officer and co-founder of Opaque Rishabh Poddar will drive the company's technical and product vision as Chief Technology Officer, delivering privacy-enhancing technologies that blend consumer-grade experience with military-grade cryptography. Poddar co-founded Opaque alongside Raluca Ada Popa, Wenting Zheng, Chester Leung, and Ion Stoica (co-founder of Databricks) in the UC Berkeley RISELab.
Okta appoints two senior execs in leadership roles

Digital identities firm Okta appointed Atul Agarwal as the Regional Vice President (RVP) and Country Head for Okta India, along with Nikhil Hasija as the Head of the India Innovation Center. Agarwal, a veteran in the IT industry for almost two decades, will lead Okta's sales in India, driving the company to become a bigger player in the online security and digital identity space. Agarwal will be key in bringing secure and smooth digital experiences to Indian businesses and government agencies. Hasija, a tech veteran and former CEO of Azuqua, will lead the India Innovation Center in Bengaluru, with a focus on IT security. (Read more)
---