Why Sify's Raju Vegesna And His Employees Are Having A Ball, Finally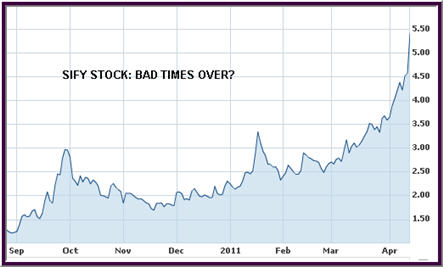 Wondering whatever happened to the ball used in the India vs. Sri Lanka final match in Cricket World Cup 2011? Well, International Cricket Council auctioned off the official match ball. Which was promptly picked up by Raju Vegesna, Chairman and Managing Director, Sify Technologies Limited (NASDAQ: SIFY) for a whopping $145,100, in his personal capacity, and dedicated to the employees of the company.
Vegesna has a fondness for expensive baubless, incidentally. A boxing glove that belonged to Muhammad Ali, and guitars of Eric Clapton, Rolling Stones and Paul McCartney, are some of the other collectibles he has spirited away over the years.
Vegesna can well afford to be indulgent. The company's stock continues to do good and is up about 20% for the week, and went up by 11% yesterday. Sify's stock has gained 125% over the last three months or so (since the beginning of January). It is now the country's largest broadband service provider (see) and just won a deal with Saudi Telecom, one of the largest telecom providers in the Middle East and North Africa, to provide ICT services.
In the meanwhile, Sify's EIG (Europe India Gateway) submarine cable capacities are ready for activation, and its partnership with GBI (Gulf Bridge International) to land their Submarine Cable System in India, is scheduled to go live in second half of 2011.
After a few years of trouble, the company finally seems to be getting its act together. So a $145,000 cricket ball may not be a bad investment if that can keep up the employee motivation.
Comment(s)