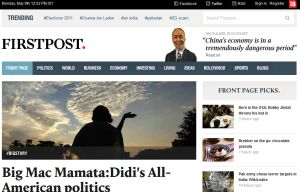 Web18 Software Services Ltd, the Internet and mobile arm of media conglomerate Network18 group, has launched a news portal called Firstpost.com.
Network18 runs various news channels like CNBC-TV18, CNBC Awaaz, CNN IBN and IBN.
In his post introducing the website, Raghav Bahl, Founder and Editor Network18, says, " For over a decade, Network18 has been wedded to news and the web. Long after our peers succumbed to the dotcom bust, Web18 continued investing, logging up losses but doggedly staying the course. The fruits of that stubbornness are now rather sweet, as Web18 is the largest and fastest growing Indian Internet operation. And FirstPost is its newest, most vibrant offspring."
Its Editor-in-Chief is R Jagannathan. The website has partnered with The New York Times for exclusive images and cartoons.
FirstPost.com
The content on the site is fashioned in a style that is less newsy and aimed at the social networking audience, with catchy headlines like "Big Mac Mamata: Didi's All-American politics" which look like they belong on Facebook or Twitter.
Lists are also included for the readers. A note from Web18 says that the site will have scope for opinion writing; it will offer both long form and short form content, which gives sharp take on news.
Although the site is ad-free as of now, the website will introduce them in the future.
FirstPost also offers a blogs section with contributors such as S Srinivasan, Seema Singh, Peter Griffin, Shishir Prasad, Indrajit Gupta, Aparna Popat, Arjun Parthasarathy and Kajal Tejsinghani.
As of now there isn't too much of external linkage of content on the site, but Web18 says that they are going to do that. Then there is the Editor's pick right at the bottom of the page. This will help the reader in choosing what to view.
Hash tags have been used on FirstPost for the reader's convenience and like many other Indian news sites, wire stories are also present on FirstPost from sources such as PTI.
A mobile version of FirstPost -- M.firstpost.com -- has also been made available.
Besides the news channels, the group also runs wire service Newswire18 and Infomedia18. Portals operated by Web18 include In.com, Moneycontrol.com, Cricketnext.com, Tech2.com, Biztech2.com, IBNLive.com, Compareindia.com, Indiwo.com, Buzz18.com and Josh18.com.
---