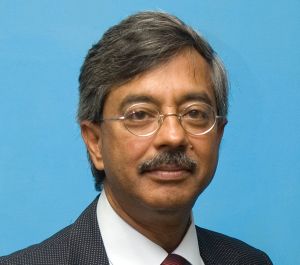 It is indeed the end of the proverbial era. Pramod Bhasin, the founder, president and CEO of Genpact is stepping down from CEO-dom to a non-executive post (non-executive vice chairman). Read the Techcircle.in report here.
He is not the only CEO of the only business process outsourcing outfit to step down in recent times, others too have inched away from the limelight – Vikram Talwar, Ananda Mukherji, Neeraj Bhargava, and Raman Roy – to name a few. While he may not be the only one to look away from the core businesses, sometimes businesses they had themselves built, Bhasin is definitely the one who had led Genpact and a sunshine sector into a industry that stands at an estimated total of $14.1B today. But in Bhasin's case, morning did not show the day.
"I wasn't very ambitious that you would imagine someone like me would be. Ambition came late in life for me," said Bhasin in an interview with Financial Express some years ago. Speaking to the same business daily a few years later, just a month before news of his quitting would permeate the business press, Bhasin gave no indication of the imminent management shakeup in Genpact. He had just spearheaded a $550M acquisition for the company with Headstrong, a global IT consulting firm with a specialized focus in financial services, especially capital markets and securities industries space. If anything, he came across as someone willing to shuffle the company's services portfolio for a better hand, and on the lookout for newer companies to own.
Why did Bhasin step down, and why now? At a media conference organized by Genpact, Bhasin too said he was stepping down for ' personal reasons'.
A spokesperson for Genpact said in an email to VCCircle: "Pramod's stepping down from the organization as President & CEO of Genpact Ltd. is a personal decision and is part of a structured succession planning process which is in place for all leadership positions. Having built and led Genpact since its inception, Pramod wants to now make more time for personal endeavors, and has decided that 2011 is the best year to do so." To refresh your memory, a story circulated a couple of years ago said Bhasin was believed to have left Genpact to start his own venture capital outfit, which he denied. ""There is no such move in the near future. I have no intentions to leave the company. If you have a look at the company facts, there have been huge investments that the com¬pany has made on me," Bhasin had reportedly said back then.
Bhasin Trivia Total Calculated Compensation is $6,707,051, as of FY 2010. Total annual compensation stands at $3,500,000 which is made up of a $750,000 pay check and $2,750,000 in bonuses. Has a total of 4,026,600 stock options, including restricted stock awards, and exercisable and unexercisable options, among others. (Source: Bloomberg Businessweek)
Started Genpact as a captive call center with a handful of people in a small curtained room.
Loves Cricket, and is believed to be a fairly talented player himself. Omce broke a leg (literally) during a friendly game.
His father, a chemical engineer with ICI, is believed to be among the key influencers in his life.
His schooling was at La Martiniere in Calcutta. He followed it up with St Columba's in Delhi and Cathedral in Mumbai. Is also a Chartered Accountant from Thomson McLintock & Co., London, and holds a Bachelor of Commerce degree from Delhi University.
Serves on the boards of NDTV and SKS Microfinance. Is on the board of NGEN, a 50-50 Joint Venture between Genpact & NDTV Networks. (Other Genpact members in the NGEN board includes Rakesh Chopra and Harpreet Duggal, both senior vice presidents, and business leaders with the company.)
Career with GE and RCA spans 25 years across the US, Europe and Asia.
Was the chairman of National Association of Software & Services Companies (NASSCOM), and is member of the Board of Trustees of NASSCOM Foundation.
Is the current chairman of the CII Services Council.
Is chairman of the Junior Achievement India Founders Board, and is on the governing boards of several educational institutions including IIM Lucknow, Lady Shri Ram College, and Shri Ram School.
---