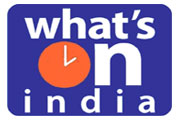 Mumbai-based What's On India, a TV guidance company, has announced a new collection of Electronic Program Guide solutions called EPG-On-The-Cloud.
What's On India was founded by Atul Phadnis, who held roles in advertising (Rediffusion-DYR, MindShare, Starcom Worldwide) and Television Ratings (at TAM India) before starting up in 2005. What's on India is backed by investers like Nexus India Capital, Sequoia Capital, Wealth First Advisors Pvt. Ltd. and Julie Petersen.
The EPG-On-The-Cloud is a collection of on demand EPG services which will work towards enhancing and improving new TV Guidance products and applications of the connected devices and platforms that will be launched in the country.
What is EPG
EPG or Electronic Program Guide metadata content solution helps DTH (Direct to Home) and cable operators to provide the viewer with correct program timings and all the other details of Films, Matches and TV shows.
Many electronic and media corporations have already launched or are in the process of launching connected devices like IPTV, Mobile TV, Smart TV, Web TV, OTT Boxes and Broadband Connected Set-Top-Boxes for better delivery of TV content. The new suite from Whats-On-India has web services like metadata, recommendations, ratings, search, poster-arts, translated EPGs and user behavior personalization routines.
"Our On-demand electronic program guide is different from the STB EPGs as it is real-time, accurate, customized and secure. The key difference is that these EPGs are powered directly from the What's-On-India cloud network vis-Ã -vis the regular cable/ DTH EPGs that are powered through enterprise server link-ups. EPG-On-The-Cloud is a natural step for What's-On-India to extend its EPGs to power the next wave of products, services and applications that will allow consumers even more opportunities to find the TV content that matters most to them." said Abrar Shaikh, GM, What's-On-India, in a media release.
How will Whats-On-India's EPG-On-The-CLOUD Help
These services will help consumer electronic (CE) manufacturers, service providers (including Telcos launching IPTV and Mobile TV), online, mobile and other application developers in quickly setting up a different TV search and EPG offerings which will ultimately improve the connected TV experience.
---