Google has expanded its Google Transit services further by announcing the addition of DTC (Delhi Transport Corporation) and AMTS (Ahmedabad Municipal Transport Services) bus services to it. Google maps will now cover bus routes for Pune, Bangalore and Ahmedabad, local train/Metro routes for Kolkata and Chennai and both for Mumbai and Delhi.
With the help of the service, users can find the perfect route between two places that will consume the least amount of time and is shorter in terms of distance travelled by using a particular type of transit service (trains or buses).
How does Google Transit Work
The user will have to select 2 points of travel, like a starting point and a destination, and then hit the 'get directions' button. The map will generate a route between the two points. Next the commuters will have to select the transit option by clicking the train icon (which is placed next to the car icon) and all the relevant details will be provided to them.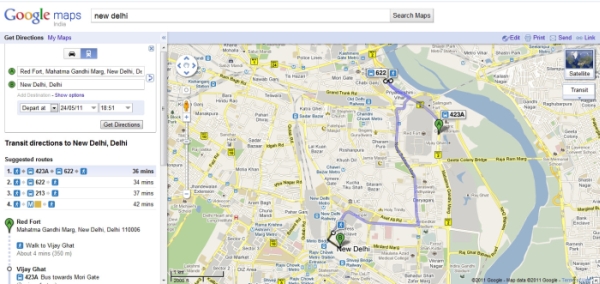 The details will include either bus or train/Metro routes (or both when applicable) between the two points of travel, additionally walking distance between the points of travel and the bus stands and train/Metro stations nearest to them will also be provided.
Both desktop and mobile versions of Google will have the Maps.
Public transport as a means of travel is most used in Metros in India, and hence the addition to the service will help commuters to plan their trips in a better manner.
---