GroupOn Rebranding SoSasta As Crazeal: Why, How & When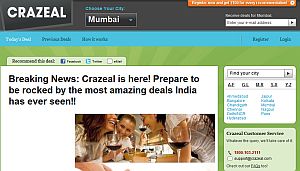 The world's largest online group buying site GroupOn is re-branding its Indian unit SoSasta.com, acquired early this year, into Crazeal.com as it implements the global parent's technology platform in India and seeks to cut out the negative branding connotation of the existing brand.
The re-branding was under consideration since February, when GroupOn acquired SoSasta.com. However, it is only now that the change is taking place, GroupOn India CEO Ankur Warikoo told Techcircle.in.
The reasons for the change in name are clear. 'Sasta' is a word in the Indian language Hindi meaning "cheap". The name has not worked well with premium merchants. "We were planning to move to the next level, and there was a hesitation about the name. We didn't want this positioning for partners. Merchants were reactive to the name SoSasta," said Warikoo. He added that feedback from users did not show a significant opinion about the name.
But another argument goes that the name SoSasta did not resound well with users across the subcontinent, which has scores of languages besides local dialects and may not identify the Hindi word and hence the new name. Apparently, there is also a consumer bias against brands with Hindi names in certain parts of the country and if it's an MNC, businesses typically expect a global sounding brand, sources say.
On the choice of the name 'Crazeal', Warikoo said, "We have crazy deals - that's the message we wanted to send. It's not necessarily about being cheap or discounted but offering the best value for money deal."
Branding Challenge:
GroupOn will take extra pains to ensure that communication of its re-branding into Crazeal.com to users is clear. "I wouldn't say it is smooth, but we will work hard," said Warikoo.
Does the company face another re-branding in the near future – will Crazeal.com turn into GroupOn India? "That's a hard question to answer. I don't have one right now. I do believe that the quality of deals and merchants defines the business. People might credit the brand GroupOn for some time but in the end it is best deal that they care about, whatever the name. It's not a make or break situation. We want to be very cautious about that," said Warikoo.
GroupOn has faced branding issues previously with the changes in the logo. It is still in a legal tussle with Bangalore-based ValueNet E-Commerce Pvt Ltd for the domain Groupon.in. GroupOn said it was unable to share more information as the case is still under judicial enquiry. Techcircle.in has still not received a reply to attempts to contact Mohan Rao, the MD of ValueNet.
Although risky, the re-branding is not without precedence. When Germany-based Group Buying Global AG and Smile Interactive group acquired Wanamo.com in June 2010, the site was rebranded as Dealsandyou.com, a website that offers a daily deal in categories such as dining, gadgets, shopping, travel, entertainment etc in 18 cities.
New Platform:
"SoSasta was on the India platform which had limited features but now we are on the platform that all other GroupOn sites use across the world," said Warikoo.
The new technology platform will remain the same from an operational perspective but is more robust, easy to use and scalable. Some of the changes are easier delivery of SMS and e-mail voucher codes and newsletters. "A lot of technology know-how that has been developed by GroupOn over last few years has been included in the platform and it is more user-friendly and more analytical in tracking users through the buying cycle," he said.
On the supplier side, the platform will offer online redemption rules so they can track deals and redemptions in real-time. GroupOn is also setting up a call centre for its partners this month, which will be integrated into the platform, Warikoo said.
Crazeal.com Soft Launch:
The new site is up but is still in its testing phase and will be commercially rolled out later this month. Sosasta.com is currently active, as is Crazeal.com, though one cannot see any deals yet on the new site.
SoSasta.com will continue to exist as testing of the new platform continues and once the platform is operationally stable, SoSasta.com will redirect to Crazeal.com. Warikoo also said that some user data still rests on SoSasta.com which is yet to be ported onto the new platform and was unable to share a launch date.
Team Re-Aligned:
With a new branding, common platform and a new team GroupOn has certainly pressed the ctrl+r or F5 button for its India business.
After the swathe of exits of its key management, GroupOn has now made some new hires and re-aligned its team. Bharath Devanathan, previously sales director of south is now the company COO; the sales directors for north and west are Gaurav Sharmaand Biswaroop Chatterjee. A new marketing head will be joining the firm soon, Warikoo said.
Warikoo himself was, until recently, an entrepreneur-in-residence for Rocket Internet and evaluating business opportunities in India in the online space. He joined GroupOn India as a consultant early this year and was appointed CEO in August.
Top executives including Piyush Shukla, head of research & city planning at GroupOn India; Vaibhav Aggarwal, vice-president at Groupon India; Srinivas Nudurupati, the chief marketing officer (CMO) and the chief technology officer, Seshadri Krishnan quit the company recently. The founders of SoSasta - Ananya Bubna and Udayan Bubna - exited daily operations at the company and moved into the role of President and Advisor. Ananya Bubna has since launched his own start-up called TechPourri which is in stealth-mode. Its all hush-hush for now, so watch out for this space for more soon!
Comment(s)