Times internet Ltd, a part of the Times Group has launched a new e-commerce site called hutk.com. The site offers a range of products in categories like ethnic Indian apparel for men (kurta pajama, sherwani etc) and women (sarees, lehengas etc), jewellery, handicrafts (paintings and sculptures) and spiritual Items (japa malas also called prayer beads and puja items). Buyers have the option of viewing the prices in Indian Rupee, US Dollars, Pound Sterling and Euros.
The jewellery offered on the site has been provided by popular jewellery brands like Asmi, Nakshatra, Sangini, Jagdamba, Gili and D'dmas. Consumers can also send flowers within India as well as abroad and the site offers a wide collection of bouquets and arrangements of roses, lilies, orchids, tulips etc.
The site also has a 'gift ideas' section which lets you select the person you want to give a gift to (like father, wife, friend etc) and accordingly suggests appropriate gifts for them. Although this section still requires work since when we tried it out, there were no gift suggestions for sister and weird suggestions for brother and friend (for example, they suggested a 'bejeweled border saree' as a gift for a brother).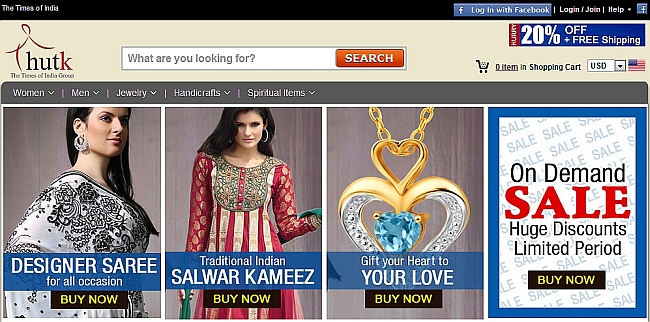 The site claims that the products can be delivered worldwide including in India and the delivery date has been set between 12 to 15 days. In case there is a problem with the product, a return policy is also available. Additional services like 24X7 e-mail support and online chat support have also been provided by the site. The company is claiming that it wants to be India's biggest website offering the widest range of products to people in other countries (basically NRIs).
Hutk's competitors in the Indian market include fashionandyou, 99labels, ZOVI.com and bagittoday among others.
---