Exclusive: Another E-com Casualty - Travel Deals Site Vamoose.in Shuts Down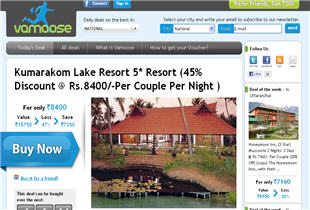 Vamoose Vacations Pvt Ltd (Vamoose.in), which was launched by TravelMart India Pvt Ltd, one of the early travel services providers in the country, has been shut down. The site Vamoose.in is currently offline.
Earlier, e-com site Taggle, run by Bangalore-based Taggle Internet Ventures, closed due to unsustainable price wars.
Vamoose.in offered discounts for the leisure vacations category, packages such as weekend getaways to hill stations, national and international vacations, adventure packages, as well as wellness packages. The website was launched in April 2011. According to WHOIS data, the site was last updated on July 21, 2011, and would have expired only on December 22, 2014.

When contacted, Manoj Gursahani, director of Vamoose.in and chairman of Travel Mart India, conveyed that the website had been merged back into the parent company TravelMart. It appears to have happened in September, followed by a relaunch of TravelMartIndia website.
TravelMartIndia.com currently offers all the deals which were previously running on Vamoose.in. So it may just be a strategic decision "the name Vamoose.in might not have enough brand recall and the company might have thought that it would be a good idea to use TravelMartIndia.com instead.
Travel Mart has been around for 26 years in the travel space and has 100,000 users. Vamoose was bankrolled by the founders – Gursahani and Hari Swaminathan. The latter was a seed investor and director of Zyncorp, LLC, a US-based outsourced solutions provider for healthcare firms and small hospitals.

Vamoose was set up as a separate company and not as a subsidiary or affiliate business of TravelMartIndia, but utilised TravelMart's existing business relationships to gain traction. It also shared the same office, although it had shortlisted a new office space. It was also looking to hire aggressively for social media marketing and contracting teams, as well as operations and top level management positions – a CFO and a CTO. However, Gursahani had shared that finding talent was a challenge.
The company hoped to grab 10 per cent of the Indian travel market, which was expected to reach Rs 37,890 crore this month, according to IAMAI. TravelMart also launched another niche site called MyAirportTransfers.in, which offers pick-and-drop facility for travellers in Delhi, Mumbai, Bangalore, Kolkata, Chennai and Hyderabad.
With a niche travel site such as Vamoose.in, it boils down to sustainability. Vamoose.in faced off with various other larger sites – group buying sites in India such as Snapdeal.com, MyDala.com and Dealsandyou.com that offer deals on getaways, along with other services and products. It also competed against the large online travel agencies like MakeMyTrip.com, Yatra.com and Cleartrip.com who have larger brand command and hence, lower customer acquisition costs and more repeat customers.

Earlier, Kunal Bahl, CEO of Snapdeal.com, had noted that deeper customer relationships on generic deal sites translate into higher velocity of transactions and MakeMyTrip CFO Rajesh Magow warned about the challenges facing a niche travel deals business.
---