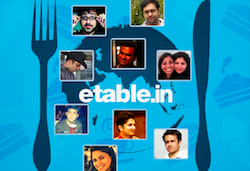 Etable Services Pvt Ltd, the company that owns and operates Etable.in, an online community for foodies, has raised under $1,00,000 in angel funding from unnamed angel investors.
While this is not the first funding for the company, since it had also received a seed round of around $50,000 in January last year, this is the first time the funding details are being reported.
Although the company did not share the names of the investors, it mentioned that the existing investors (who also provided the earlier seed funding) are associated with August Capital Partners, but have made the investment in their private capacity. The new investor group that has invested along with the existing ones includes a European and an US investor.
"The funds will be used for product development, user acquisition, marketing and hiring new talent," said Sharad Madiman, co-founder and marketing head, Etable.
The Bangalore-based startup was founded in February 2012 by Maninder Singh, Bharath Belur, Rohit Iyer (handles technology) and Madiman. While Madiman and Iyer are actively involved with the startup, Singh and Belur's involvement is only part-time. The site was launched in beta in August last year and had an official launch in October the same year.
"There might be thousands of restaurants in a city, but you are likely to go only a handful of them and you would rather go to the ones your friends recommend and have been to. This is what sets us apart from many other sites that have listings of every place in town. We might not have them all, but the ones we have are the ones curated by our users," said Madiman.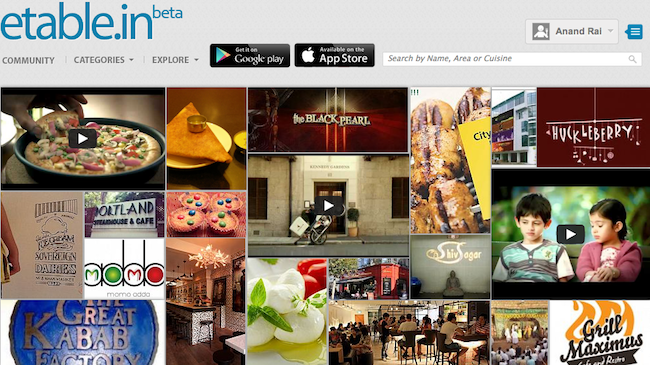 The site acts as a platform where users can create conversations around food. These conversations can include reviews, check-in, recommendations, photo/video uploads, etc. As of now, it offers details on restaurants like pictures, menus, directions, contact details, timings and cost similar to what sites like Zomato.com offer. The key differentiation lies in the fact that in this case, it is the users who add the data and not the company. Also, the listings are not limited to Indian restaurants and instead can be added for restaurants around the world.
"We are not a typical listings site, all the listings have been done by our users. However, restaurants are free to sign-up as members post which they can list their restaurants. In fact some of them are already doing it," he added.
Over 1,600 restaurants are listed on the site and for each listing done, users receive points, which are then redeemable in the form of food vouchers. The company is partnering with restaurants to offer these vouchers. It also plans to add recipes to the mix, wherein users will be able to add their own recipes on the site and will receive points every time someone likes or praises it.
Etable claims to be getting 50,000 visitors on a monthly basis and has 3,000 registered users. It recently launched mobile apps for the Android and iOS platforms and is planning to add Windows, Blackberry and Symbian apps in the future.
Its competitors in the same space (not necessarily direct competitors) include Yelp.com, Foursquare and Facebook (via its Nearby feature).
---