Bangalore and California-based Glykka LLC, which provides a software solution called SignEasy  for individuals and businesses to digitally sign documents on smartphones and tablets, has recently upgraded the app to enable offline signing, a top executive of the company told Techcircle.in. The app has seen close to one million downloads since launch, claims Glykka.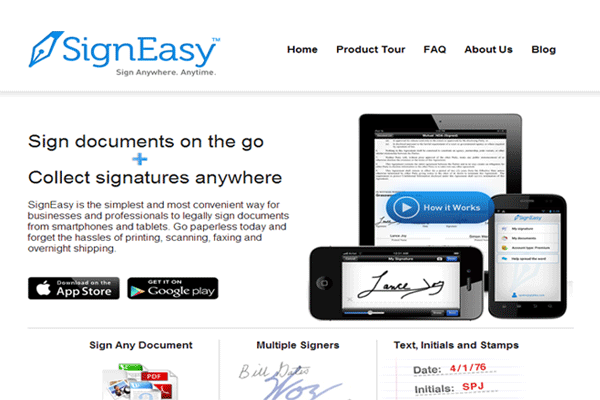 Set up in 2010 by IIT-Kharagpur alumnus Sunil Patro, SignEasy has also integrated its iOS app with Google Drive to cater to millions of active users who will find it convenient to import documents, sign those digitally and put them back to Google Drive for instant sharing and anytime, anywhere use.
To access Google Drive from SignEasy, you must go to 'settings' to link both accounts. To import a file from Google Drive, go to 'my documents' screen, tap on 'add a document' and select Google Drive. To save the signed document back to the Drive, just tap on the export button and choose 'save to Google Drive.'
"Mobile professionals can be away from the internet and may still need to complete important business with clients such as signing and filling forms and collecting signatures. With our iOS App v4.2.2, they can now complete business deals even when offline," said Patro, who also holds a Master's degree in Electrical and Computer Engineering from US-based Purdue University. The Android version of the app will also come out soon, he noted.
With the Google Drive integration, the company is now working with all four big cloud storage services including Dropbox, Box and Evernote.
"Although SignEasy is device agnostic, we are not offering a desktop/PC solution for our offline digital signature imitative," said Patro.
According to him, the offline signature solution is helpful for professionals like real estate agents, service technicians, etc. "Real estate agents are constantly on the field, showing houses to clients. But many of these structures don't have internet connectivity or Wi-Fi. With SignEasy in place, an agent can pull up the sales contract (preloaded in the app) and get the client details & signature without being online. When the document is finalised, he can save it back in SignEasy, pending for final upload. Whenever he gets connected to the internet, he can send the signed contract to the client via e-mail and also archive it on the cloud for future references," explained Patro.
Launched only a couple of weeks ago, the app has registered close to one million downloads, the company claims. "We process around 400,000 signatures a month, majority of those in the US, Canada and the western part of Europe. We have now started focusing on SMBs," said Patro. We have now started focusing on SMBs," said Patro.
There are two pricing models in works – a pay-as-you-go offer for individuals and a premium subscription model for SMBs.
Digital signature is a very broad term, which may include various forms of technology such as digitally signed documents (usually on a PC), click-based consent on electronic forms (on a website), scanned/e-mailed or the fax of a signed paper document and the traditional scribbled line technique used in SignEasy. "E-Sign and Uniform Electronic Transactions Act (UETA) is approved in the US and similar laws in Europe have made it legal and acceptable for the documents being signed using SignEasy," explained Patro.
Glykka is catering to companies across verticals like sales, accounting, finance, legal services, insurance, healthcare, real estate, logistics & shipping, consulting, HR, education & research, startups& venture, etc.
However, Glykka is not the only player in this space. Recently, Kerala-based mobile VAS startup MobME Wireless launched Mobile Express, a plug-and-play ecosystem that combines the security and non-repudiation properties of digital signature certificates with mobile phones. MobME claims that it holds the exclusive licence of SIM-based W-PKI solutions from Finland-based Valimo Wireless for the Indian market. Valimo is a subsidiary of Gemalto, the world leaders in digital security and smartcard applications.
(Edited by Sanghamitra Mandal)
---