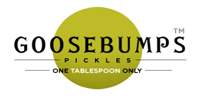 Goosebumps Pickles, a site which sells pickles and also enables users to customise vegetarian pickles online, claims to have acquired around 900 customers since its launch in April 2012.
But that may not be the best of numbers as the venture, a flagship of the Mumbai-based digital ad agency Digi-Cult, is nearly 10-month old and has to compete with a variety of off-the-shelf products readily available anywhere near you. However, the novelty value may turn out to be its USP as the platform targets those who don't have access to home-made pickles, but can 'make' them as per their liking with a few clicks and buy them online.
Founded by Pinank B. Shah, along with his wife Ishita and in-laws Mita and Shailesh Mehta, Goosebumps allows customers to drag and drop various ingredients onto its platform and then pick & choose their favourite match. These can be ordered online and will be home-delivered within 7-10 days. Customers in Mumbai can pay cash on delivery, but outstation orders require e-payment.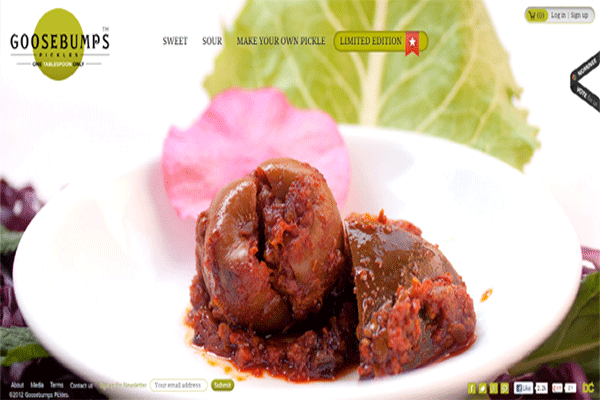 According to Shah, Goosebumps is the first company that sells pickles with new-age ingredients such as jalapeno (a medium-sized chilli pepper) and olives, mixed in traditional masala (spices). "Our products are genuinely home-made and no preservatives are added," he noted. As of now, the company is buying raw materials from local wholesalers and storing those at its warehouse.
"As our target audience is spread across India, we have partnered with two logistics companies, TNT and Aramex, for home delivery," said Shah. The company is also in talks with international logistics companies to deliver pickles in Dubai, the UK and the US. "But we don't have plans to officially launch the brand in those countries," he added.
Shah has also founded BowlsToYou, a site that sells salads and sandwiches. Launched in November last year, BowlsToYou is currently catering to the commercial hubs of Mumbai and delivers around 15 orders a day.
Currently a B2C company with a six-member team, Goosebumps claims it is bagging two orders a day on an average. "We have already achieved break-even and sold over 1,500 kg of pickles with an average price of Rs 300 per 500 gm (which is approximately Rs 900,000). And we are targeting to sell over 5,000 kg in the next fiscal," said Shah.
The company will also look at a B2B model and cater to enterprise customers once it gets enough scale.
But does it have enough traction to reach that scale? The company says it is eyeing the Rs 1,200 crore Indian market for its offerings and that may do the trick.
"The Indian pickles market is pegged at Rs 1,200 crore which includes both organised and unorganised sectors, with the former accounting for nearly 20 per cent. And it is growing further, thanks to the rising brand consciousness among people. With the category growing at more than 25 per cent annually, the potential for us is huge," said Shah.
However, logistics costs and long turnaround time are the key challenges the company is facing.
The firm is also planning to raise VC funding, but has not set any timeframe for the same. "We are looking to increase production by more than 200 per cent and also want to do some advertising. For that, we will need money, but we don't have plans to raise funds yet," said Shah.
Goosebumps' parent Digi-Cult is still active and currently works for 8-9 clients, claimed Shah. "We intend to sell all products which are potentially e-commerceable. But we add a 'customised' flavour to them and that's why even home-made products like pickles and salads are getting sold online," concluded Shah.
(Edited by Sanghamitra Mandal)
---