OneAssist partners Makemytrip to offer security services to travellers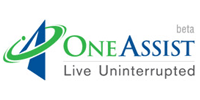 Mumbai-based OneAssist Consumer Solutions Pvt. Ltd that runs OneAssist has inked a strategic partnership with MakeMyTrip to offer some of its products via the latter's platform. OneAssist offers personalised mobile and financial security and management solutions via its products WalletAssist, MobileAssist, EverydayAssist and TripAssist.
With this partnership, MakeMyTrip users will be able to avail TripAssist and WalletAssist, said Subrat Pani, co-founder, OneAssist. Founded by Gaurav Maini and Subrat Pani in June 2011, OneAssist raised  $3.5 million (Rs 19.93 crore) from Sequoia Capital India and Lightspeed Venture Partners last year.
For MakeMyTrip customers, the travellers can make a call from anywhere in the event of theft or loss of credit or debit card or smartphone. OneAssist will then block the customers' lost credit/debit/prepaid/travel -cards and smartphone, preventing of misuse of the data. In addition, OneAssist will also facilitate settling their hotels bills and arrange for a return ticket in case the customer is unable to do so. In case of lost passport while on travel, OneAssist will also help the customer with all necessary information and documentation besides providing for foreign language translation assistance should a customer need help while abroad.

MakeMyTrip customers can avail of these products at the time of booking their tickets or holiday packages online. The offer is now live for international travellers and will soon be extended to domestic travellers.
"One of the chief worries while travelling revolves around security and connectivity. With this tie-up, we are assuring the traveller of the security of their financial and phone data even in the unfortunate event of theft or loss. Travellers who have opted for this service will need to just call one number to block and protect their lost cards and retrieve phone data instead of contacting individual banks and attempting to retrieve their phone-book contacts," Rajnish Kapur, chief information officer and head – customer service, MakeMyTrip.com, said.
OneAssist has also created a Wallet Protection product called TripAssist Wallet especially for MakeMyTrip customers, which is also a 30-day product for short duration trips. Apart from that, EverydayAssist is an annual membership plan and TripAssist is designed for customers who undertake short-duration journeys of up to 30 days.

In near future plans, Pani stated that the company is looking to explore possibility of launching MobileAssist with offline retailers. "We might place our executives at shops where people are buying smartphones to make them aware of the service," he said.
On extending such partnerships to other OTAs, Pani said the company is currently looking at deepening the association with MMT and might look at more partnerships in future.
(Edited by Prem Udayabhanu)

---